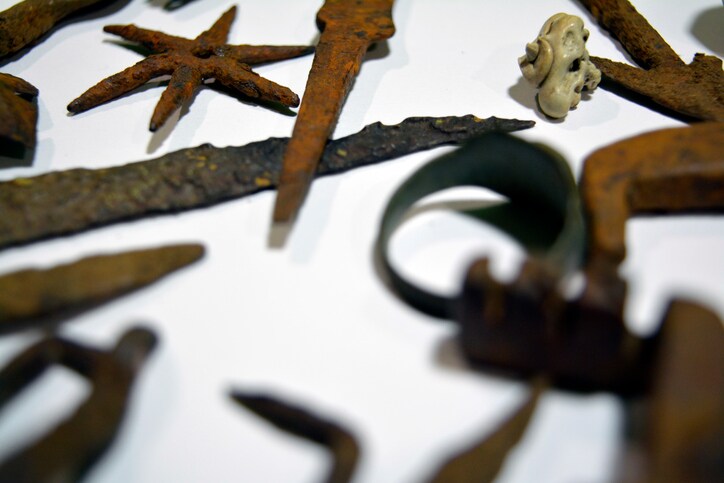 Researchers from Binghamton University, State University at New York, have found a copper band that indicates ancient Native Americans engaged in extensive trade networks spanning far greater distances than what has been previously thought. According to an announcement on the University web site, the team discovered a copper band, alongside the cremated remains, at a burial site in coastal Georgia. Radiometric dating using an accelerated mass spectrometer indicate that the remains and band are both more than 3,500 years old. This is significant, as it pushes the practice of cremation, as well as the use of copper, in the region more than a millennium older than previously thought. The research was published in the Proceedings of the National Academy of Sciences.
According to the U.S. Geological Survey (USGS) Fact Sheet, Copper – A Metal for the Ages, copper was first used in coins and ornaments starting about 8000 B.C. The emergence of copper tools is credited for helping mankind transition out of the Stone Age at about 5500 B.C. The period that followed is sometimes known as the Copper Age, or the Chalcolithic Age. The discovery that alloying copper with tin produces bronze launched the Bronze Age at about 3000 B.C.
Copper has continued to be an extremely useful metal throughout history thanks to its high thermal and electrical conductivity. The discovery of electromagnetic induction in the 19th century paved the way for electric motors and electric lamps, which in turn created a demand for copper for generators, power cables, motors and other electrical products. Today about half of the world's production of copper is for electrical requirements. For more information, visit The Copper Development Association web site.
Another reason why copper is so widely used is the fact that it can be recycled indefinitely without losing any of its chemical or physical properties. Recycled, or secondary, copper is indistinguishable from primary copper, and the production process consumes much less energy. (Read Copper Compendium, Part 5: Copper Reincarnation- Does Copper Live Forever?)
Recycling copper extends its useful life, so much so that, as reported on CopperAlliance.org, 75% of copper produced since 1900 is still in use. Because recycled copper retains it electrical conductivity, it not only helps increase energy efficiency in many power systems but the copper recycling process consumes up to 85% less energy than its primary production, representing an annual savings of 40 million tons of CO2. In many renewable energy systems, 12-times more copper is used than in traditional systems to ensure efficiency.
Using recycled metals is becoming more prevalent, so manufacturers must analyze incoming raw materials carefully to ensure the elements in the materials will not be detrimental to the product, or ultimately their brand. To ensure they are shipping quality products, portable XRF analyzers can be utilized throughout facilities to inspect all incoming metals against paperwork, for quality checks upon receipt of the raw material scrap, and for final analysis of the finished product before the material leaves the facility.
For more information about copper, read Copper Compendium: The Whole Story.