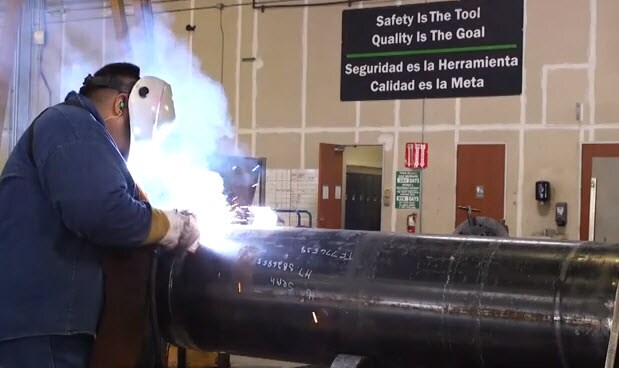 One specific area of elemental analysis in the oil and gas industry that has greatly benefited from handheld XRF spectroscopy is microalloyed steels. Microalloyed (MA) steels take low-carbon mild steel and add "micro" alloy concentrations. To reach their intended properties, niobium, vanadium, and titanium are added to strengtheners such as boron, molybdenum, nickel, chromium, and copper. The steels can be found in oil and gas line pipes, heaters, reactors and many additional industrial applications, and they are estimated to comprise about 12% of the world's total steel production.
According to the Forging Industry Association (FIA), "The rapidly growing use of microalloy forging has been encouraged by recently developed microalloy grades and by the introduction of a comprehensive, new ASTM specification A-909 Standard Specification for Steel Forgings, Microalloy, for General Industrial Use. This specification includes compositions for achieving at least four (4) strength and hardness levels. It is intended to make it easier for designers to select the proper combination of steel composition, processing and properties for MA forgings."
Microalloys Improve Weldability and Weldment Toughness
Why are microalloyed steels so advantageous? They provide lower fabrication costs over hot-rolled carbon steel from weight savings, and their reduced carbon content improves weldability and weldment toughness. When it comes to the oil and gas industry, they bring increased pumping capacity to in-line pipe, which leads to operational savings. The FIA confirms on their website that the yield strengths exhibited with these materials range from 415 to 825 Mpa (60,000 to 120,000 psi) without heat treatment. These strength capabilities make MA steels an economical alternative to quenched-and-tempered alloy steels.  The FIA further says that "MA steels and forgings have been in widespread use internationally. Nationally accepted specifications for microalloy steels and forgings, such as the new ASTM specification and other ASTM specifications for MA forging steels, will encourage the selection of microalloy forgings for safety critical parts as well as for more generic forgings."
Installation of microalloyed steels typically requires 100% PMI (Positive Material Identification), especially when Flow-Accelerated Corrosion (FAC) is involved.  FAC occurs when carbon steel piping and components are degraded by flowing water or steam water with low-dissolved oxygen. Fatal accidents at power plants, refineries and oil rigs often can be traced back to faulty or counterfeit metal building components, sulfidic corrosion of piping and equipment, or because piping is made from material that does not meet specifications, specifically improperly prepared or alloyed material. It's imperative to analyze and verify that the microalloyed steel has the right levels of those trace elements that I mentioned above.
Verify with XRF
The only way verification is feasible is by using instrumentation that can identify micro elements quickly and reliably. The instrumentation must provide the capability to find and measure elements at extraordinarily low levels of detection to identify trace levels of niobium, vanadium, titanium and, critically, residual elements as well. Handheld X-Ray fluorescent Analyzers help manufacturers and inspectors in the oil and gas industry to quickly determine alloy composition and grade of the metals, and can identify the elements in the microalloy steel.
As the technology for manufacturing microalloyed steels in the oil and gas sector has dramatically improved in recent years, chemical compositions have become more complex. They can consist of variable combinations of several chemical elements depending on factors like intended use, alloy costs, and pipe wall thickness. It all adds up to a challenging process for material identification – a process that necessitates high sensitivity and accuracy.
Additional Resources: