Editor's Note: During the month of March, we are focusing our attention on positive material identification (PMI) in the oil and gas industry. Our previous articles focused on how sulfidation corrosion and HF alkylation play a part in mechanical failures of petrochemical piping and equipment.  This article addresses welding.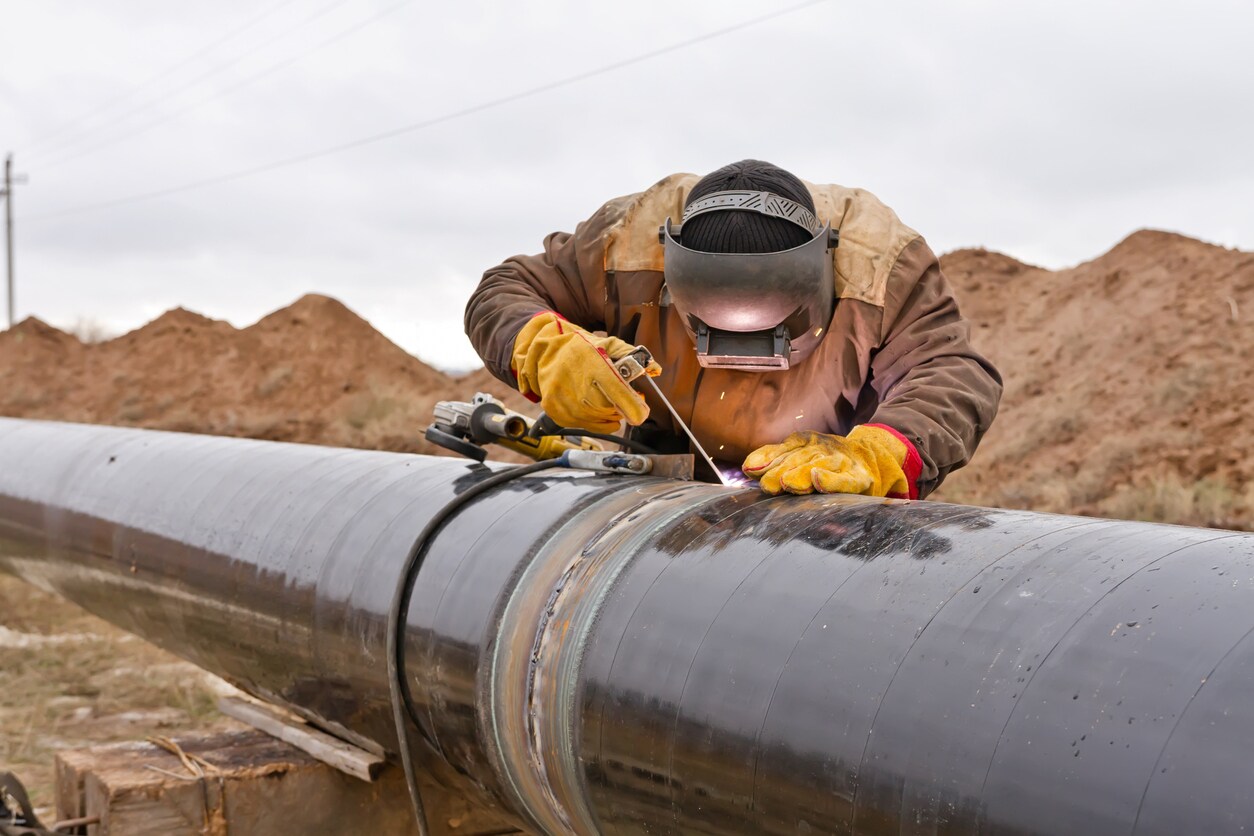 Identification of metals and alloys is paramount to safety in the oil and gas industry (O&G), especially in downstream processing plants (refining, petrochemical, gas processing). Many fatal accidents at refineries and oil rigs often can be traced back to faulty or counterfeit metal building components, sulfidic corrosion of piping and equipment, or because piping is made from material that does not meet specifications, specifically improperly prepared or alloyed material.
In order to avoid these catastrophic events, there has been an emphasis on the enforcement of OSHA's National Emphasis Program (NEP).  NEP is a national level enforcement program, and includes some directives that affect the oil and gas industry:
2009 – NEP Directive Number CPL 03-00-010 for petroleum refineries to protect its workers from releases of highly hazardous chemicals
2011 – NEP Directive Number CPL 03-00-014 for chemical facilities to protect its workers from releases of highly hazardous chemicals
For the vast majority of the "pressure" piping systems encountered, steel pipe is required. Steel is known for its exceptional strength but its fatal flaw is its susceptibility to corrosion and rust. One way to protect steel from corrosion is to alloy it with other metals such as chromium (Cr) or nickel (Ni). Another is to coat it with metallic and non-metallic coatings such as paint, zinc, cadmium, aluminum, chrome, nickel, nickel-chromium, iron oxide, and silver to provide barrier protection. We have often written about verifying the elements in these metals, including steels and microalloyed steels. In fact, the oil and gas industry has found that the use of portable XRF instruments is making a critical difference when it comes to confirming the metal and alloy in these pipes.
A handheld X-ray fluorescent (XRF) analyzer is a common tool for positive material identification in the oil and gas industry. XRF is a non-destructive analytical technique used to determine the elemental composition of materials. XRF analyzers determine the chemistry of a sample by measuring the fluorescent (or secondary) X-ray emitted from a sample when it is excited by a primary X-ray source. Each of the elements present in a sample produces a set of characteristic fluorescent X-rays ("a fingerprint") that is unique for that specific element, which is why XRF spectroscopy is an excellent technology for qualitative and quantitative analysis of material composition. (You can read more about XRF technology here.)
The pipes themselves, however, are only one component in a pipeline.  There are brackets and bolts and screws and clips and all the welding that goes with it to keep the pipes and other components connected. And all those components, including the welding materials, must be made of the right metals and alloys.
Weld Failures
A very common failure in the O&G industry is using improper weld metal during the piping construction. In addition, one of the more challenging areas for PMI access are welds. So it seems welds present a double concern: accurate alloy materials and accessibility.  Let's take a look at some of the complex issues involved in PMI of welds.
The US Department of Transportation reports that "Material or Weld Failures can result in both public safety and environmental hazards due to the release of petroleum and natural gas products. From 1996 – 2003, there were four injuries attributed to Material/Weld Failures in the natural gas industry."
Using the correct welding material is crucial.  In addition, the Department of Transportation reminds welders that "During the manufacture of steel, impurities can sometimes remain in the molten steel. These impurities can cause an incomplete bonding of the material in the steel plate or solid round steel billet used to produce pipe and other pipeline components. Although early steel-making processes allowed more impurities to remain, newer, improved processes have reduced this potential and vastly improved the quality of the steel used. Still, defects in the steel material can result in failures."
So PMI inspectors must hope that the original pipeline welders were careful about the material they were using as well as the material they were fusing. Today's best practices include testing 100% of critical materials as part of a QA/QC program. Finished welds should be isolated and analyzed to validate filler material composition and dilution rates. With industrial safety regulations becoming increasingly stringent, the process of inspecting and analyzing individual component materials is now a primary concern.
The Sheer Number of Welds Can Be Overwhelming
How many welds need to be analyzed?  Let's just say "a lot."  In 2013, the US Pipeline and Hazardous Materials Safety Administration reported that the nation's more than 2.6 million miles of pipelines safely deliver trillions of cubic feet of natural gas and hundreds of billions of ton/miles of liquid petroleum products each year. Along with collection pipelines are transmission pipelines, distribution lines, pump stations, storage and distribution facilities and automated control facilities to manage the product movement and maintain safety. Should something along the way fail, a drop in pressure normally triggers systems that close valves to isolate the failed pipeline.  There are multiple components and multiple weld points along each and every section of pipeline.
And besides the sheer number of analyses that need to be done, welds can be located in inaccessible areas. In oil refineries and petrochemical plants, access to welds can be a major obstacle. There are many tight corners, a lot of clips, and corner welds, so many of the welds can be difficult to access.
Reaching the Weld in Order to Analyze It
Take a look at these two photos below and note the welds that surround small parts that are adjacent to other components.  It can be difficult to get inspection equipment into these tight spaces, so you have to make sure that before you purchase a handheld XRF analyzer, it is sized for the job.  Is the analyzer nose small enough to reach the welds, not just the pipe itself? There cannot be 100% PMI of critical materials if the weld metals and alloys cannot be confirmed.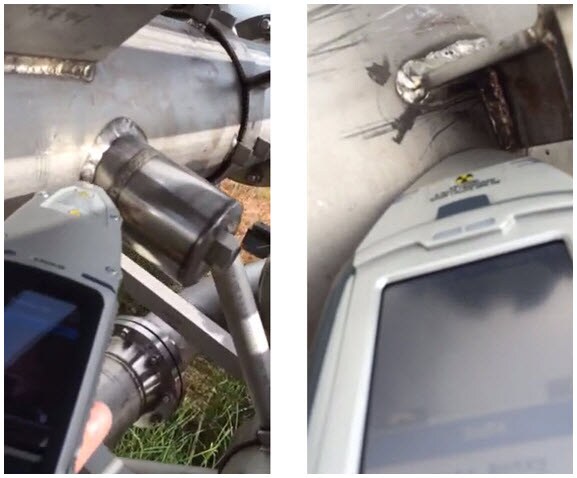 To have a handheld analyzer that is small enough to access awkward corner welds or tight spots and collect 100% of the necessary data, goes a long way for the user – including a reduction in user fatigue.  A two-pound difference in the weight of an instrument that one will be holding and moving in an eight-hour shift will make a big impact at the end of the day – especially if one is trying to maneuver the instrument around components. And not having to spend time maneuvering the instrument and trying but failing to get accurate readings will help productivity. (Take a look at the video on this page about one of the lightest XRF analyzers available.)
Also, an analyzer that can provide exceptional camera performance with pinpoint accuracy — shooting the x-ray at a specific analysis location — will help ensure true readings. The more precisely the instrument can focus on one spot, the more confident the user can be with the data being generated.
So before investing in an analyzer, or upgrading to the latest technology, make sure you consider the size and weight of the instrument.  If you are falling short of 100% PMI because you can't reach the weld spots, or if you are missing the mark because your wrist is too sore to hold the instrument properly, you might be risking your health and the safety of anyone who lives along or works on the pipeline.
Don't Risk a Weld Failure, Anywhere
Although only certain legs of this midstream pipeline (2.5M) is required or enforced to have material documentation –High Consequence Areas (HCAs), transporting Highly Volatile Liquids (HVLs) – a weld failure can cause production issues as well as safety concerns.  If you are in charge of the PMI program at a refinery or processing plant, you should use every appropriate technology available to mitigate the safety and production risks of pipeline failures, even down to the last weld.