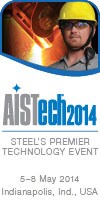 AISTech, steel's premier technology event, not only brings together engineers, metallurgists, and scientists from throughout the steel industry, but it showcases the latest and greatest technology being used in steel making.  The "A" in AIST is commonly mistaken for "American" but it really stands for "Association" – the Association of Iron and Steel Technologists.   AISTech2014 will provide an awesome international forum for networking and keeping up on the cutting edge of applied science. As you travel from booth to booth, you have the feeling that every third booth has some technology that would make a really great episode of How It's Made.
And there will be plenty of booths.  They are expecting 500 exhibiting companies plus 500 technical presentations, all involved in the production and processing of iron and steel.  Here's an interactive show floor map so you can map out your visits.  (Thermo Scientific will be in Booth 906, showing coating weight and thickness measurement gauges for metals as well as demonstrating rapid elemental analysis of solid metallic samples with optical emission spectrometry using Arc/Spark excitation.)
The not-to-miss event is the Town Hall Forum, which takes place on Wednesday morning in the Sagamore Ballroom.  AIST brings in 5 or 6 Industry leaders from the C-level offices of the global steel makers, energy companies, investment bankers and other associated industries to take part in a moderated discussion addressing the challenges and opportunities facing the steel industry today.  Very often the comments made during this Forum end up as the headlines on the next day's steel trade news.  This year's topics will include deploying new technology to leverage the natural gas renaissance, the impact of DRI supply on scrap and other metallics, confronting global and regional overcapacity, taking on the aluminum markets, market development for steel applications, recent safety initiatives that are making an impact, and attracting a skilled workforce. There is no better opportunity to gauge the pulse of the steel industry than this forum.
If you are staying a few extra days, the AISTech organizers have arranged tours of three nearby steel making facilities.  Each of these tours is on the Thursday following the conference and is well worth the time away from the office.  Given a choice, I would recommend attending the tour of Arcelor Mittal Burns Harbor, a fully integrated steelmaking facility located on Lake Michigan in Northwest Indiana.  The plant, which primarily serves the auto industry, is capable of producing 5 million tons of raw steel annually. Principal products made at this location are hot rolled, cold rolled, coated sheet products and steel plate. It is an incredible integrated steel mill and has some of the most modern technology out there.
If all that touring has built up an appetite, my colleague says that Indianapolis has a great selection of eateries, including the nationally known St. Elmo's Steakhouse.  Also,  R Bistro, and Mo's Place for steak are excellent, too.
I hope to see you in Indy, but if you can't make it, follow the show twitter feed @AISTSteelNews #AISTech
Show Details:
AISTech2014
May 5-8, 2014
Booth 906
Indiana Convention Center
Indianapolis, Indiana USA