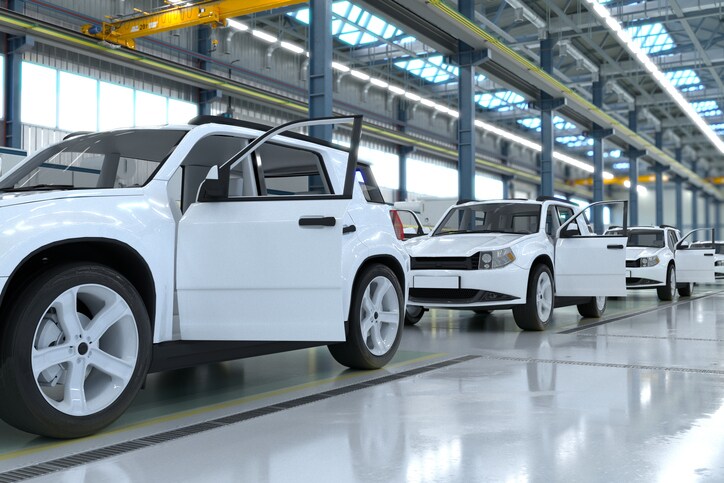 The automotive industry is seeing emerging applications for new steel grades and aluminum alloys to comply with the National Highway Traffic Safety Administration mandated CAFE (Corporate Average Fuel Economy) requirements.
New steel grades, called advanced high-strength steels (AHSS), make the car body structures stronger but also lighter in weight. According to the American Iron and Steel Institute, AHSS not only increase safety and fuel economy, but compared to other materials, they help reduce CO2 emissions over the life cycle of the vehicle.
According to the Aluminum Association, aluminum has favorable properties for automobile manufacturing, and is now second only to steel as the most used material in vehicles. Factors such as corrosion resistance, light weight, high strength, and ease of fabrication are the reasons why so many components are now being made from aluminum alloys. Carmakers are frequently using aluminum for body panels instead of steel to reduce the weight of the vehicle, which will then help increase the fuel economy.
To reduce the weight of the component even further, aluminum is being alloyed with other elements. However, there are hundreds of different aluminum alloys, and they must be composed of only the specific alloys designed for that particular component. X-ray fluorescence (XRF) is a proven technology for the elemental analysis of specialty alloys to ensure the correct alloys are combined in the right percentages and the finished material meets precise manufacturing specifications. XRF irradiates a sample with high energy X-rays from a controlled X-ray tube, which results in the emission of a fluorescent (or secondary) X-ray. This fluorescence is unique to the elemental composition of the sample. Because each element has its own characteristic "fingerprint," An XRF analyzer can tell you with very high precision what elements are in the sample and in what quantity.
One car company's efforts to lightweight its vehicles using both steel and aluminum are described on the Repairer Driven News web site. BMW head of lightweight design and vehicle weight Florian Schek discussed BMW's exploration of joining steel to aluminum, and how it might affect collision repair, during the Center for Automotive Research's Management Briefing Seminars. Some examples mentioned in the article include the following:
Consolidation of 18 parts into a single aluminum cast element that saves 24 pounds on the 7 and 5 Series. BMW also looked to cut mass out of the outer shell weight with aluminum.
A switch from crimping and bonding all-aluminum doors to laser-welding aluminum outers to steel inners, a savings of at least 13 pounds.
On the 5 Series' iPerformance variants, the OEM used cast aluminum for the plug-in hybrid's battery case and integrated crash load paths into the part to eliminate 40 pounds.
In the future, BMW would like to make the outer shell of its architecture aluminum, but the inner frame might have to remain steel to achieve the proper crash safety.
Additional Resources: