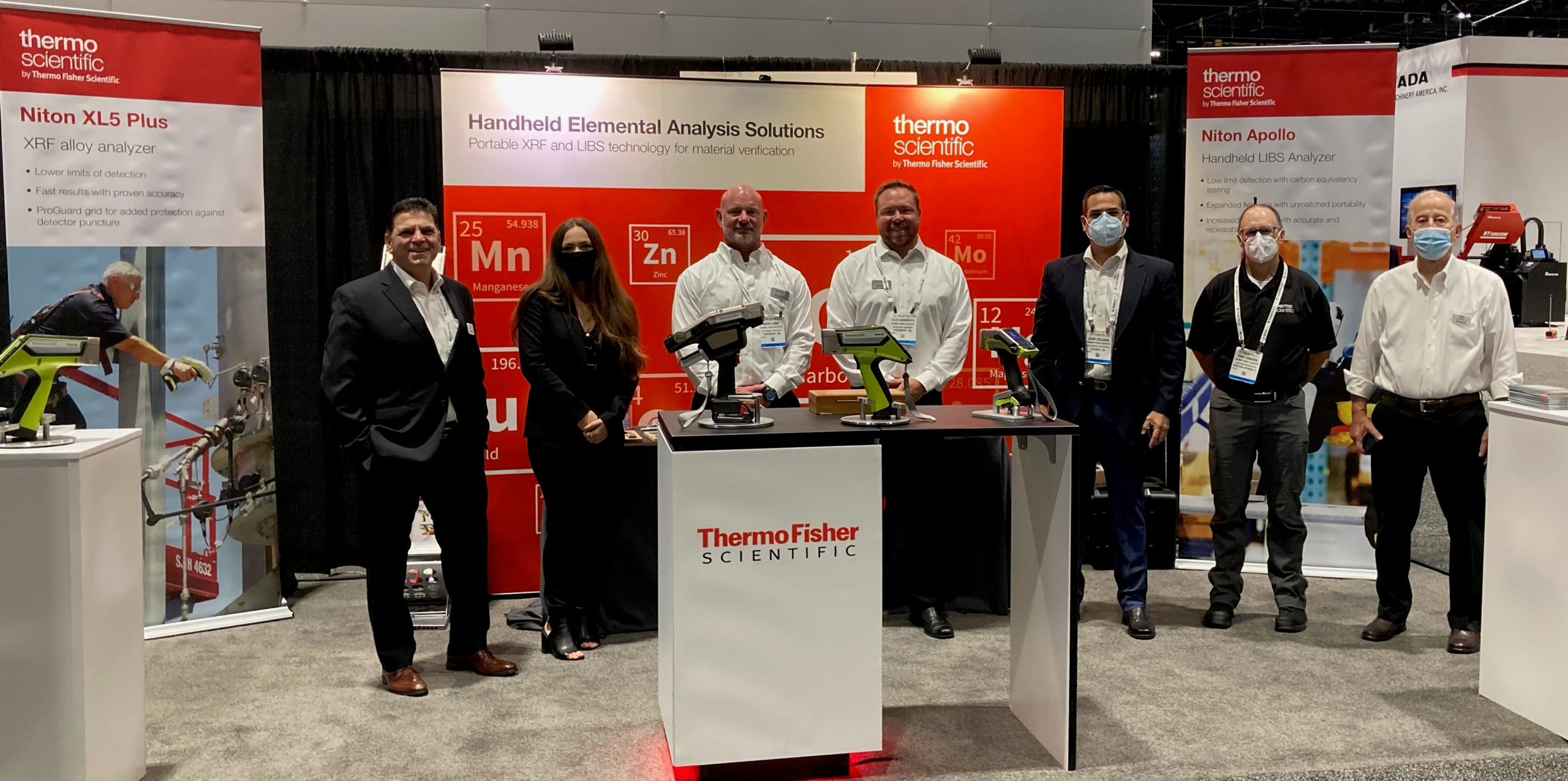 FABTECH returned to McCormick Place in Chicago this month and we found big crowds also returned to meet with the world-class suppliers and hear about the latest technologies.  FABTECH promotes itself as North America's largest metal forming, fabricating, welding and finishing event, and attendees were not disappointed. More than 1,100 exhibitors demonstrated their products, processes and manufacturing solutions that could bring new levels of productivity and efficiency to metal fabrication operations.
Those we talked to were very enthusiastic about the return to an in-person event, and for the most part, did not seem overly concerned about the show's mandate of having to wear masks indoors. We carried on great conversations with attendees, and they were focused on finding the latest new technologies and seeing hands-on demonstrations.
People who stopped by our booth were very interested in seeing our XRF and LIBS analyzers in action and learning how these instruments could verify their metals in both their raw materials and finished products.  A great many attendees were also asking about our coating weights on steels application.
Metal and Alloy Analysis
The verification of metal alloys for quality assurance and quality control (QA/QC) has never been more important for product reliability and safety. From metal production through final product assembly, the potential for material mix-ups is real. With all types of manufacturing operations facing increasingly stringent safety regulations, today's best practices include testing 100% of critical materials.
X-ray fluorescence (XRF) and Laser Induced Breakdown Spectroscopy (LIBS) help in verifying metal alloys for manufacturing quality assurance. LIBS is better suited to help identify low alloy/ carbon steels and L and H grade steels. (Learn about XRF technology and LIBS spectroscopy.)
Metal Coatings Measurement
Coatings analysis is extremely important for the fabrication industry to help ensure they meet or exceed client material specifications. Metal coatings must be applied in certain thickness specifications to perform as expected.
Handheld XRF analyzers are an extremely efficient technology for rapid compositional analysis of alloy coatings in any application. The strength of an XRF signal can be used to determine the thickness of the coating; a second reading can determine the thickness of the substrate. Since the analyzers are handheld, they can be utilized to perform spot analysis anywhere in the supply chain, help ensure that expensive coating material isn't wasted, and enhance process monitoring and quality control.
(Note:  The Thermo Scientific™ Niton™  XL5 Plus analyzer with Coatings Mode measures the coat weight or coating thickness of up to 4 layers over one substrate. The substrate can be either defined as metal, alloy, plastic or wood while the layers can be defined as pure element, alloy or compound (via pseudo element. Learn more by reading the Application Note: Measuring Metal Coating Thickness at Line.)
Post-Show Information
The FABTECH 2021 special events have concluded, but you can still access the archives and view session recordings.  And you can access our Manufacturing & Metal Fabrication technologies anytime by visiting our website.
It was wonderful to be able to again network in person with our industry peers and talk to our customers.  The FABTECH press release noted that this was the first large-scale manufacturing trade show to be held at Chicago's McCormick Place since the onset of the COVID-19 pandemic, and that FABTECH 2021 would be bringing two years' worth of groundbreaking innovations to the global fabrication community. We were thrilled to be part of it.
Resources: