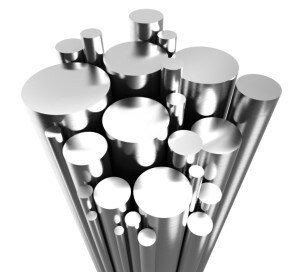 There are more than 100 different grades of stainless steel, used in everything from surgical equipment to washing machines, to turbine blades. "Stainless" steel is actually a generic term referring to a variety of steel types, including Austenitic, Ferritic, and Martensitic. Stainless steel is made by adding varying amounts of chromium (Cr) and other alloying elements such as nickel (Ni) to iron and carbon to create a corrosion-resistant product. The types of alloys used depend on the final use of the product.  Does it need to be high and low temperature resistant? Flexible? Easily fabricated? Strong and durable? Easily cleaned and maintained?  Long lasting, with a low lifecycle cost? Aesthetically attractive? Environmentally friendly and recyclable?
The strength and hardness of stainless steel is an advantage in many applications, but the downside of adding strengthening alloys is poor machinability, meaning the material is difficult to cut and wears down the tooling. Processing the material through a cold rolling mill helps reduce thickness, increase strength and improve the surface finish. Hot rolling of steel occurs at very high temperatures, above the recrystallization temperature of the material, producing malleable sheets that can be formed in a variety of shapes. The process produces sheets that can be extremely long, which are then rolled into coils.
X-ray based metal coating weight and thickness sensors are used for accurate, real-time measurements to ensure the stainless steel is on spec, whether the steel is being hot or cold rolled.
Want to learn more about stainless steels?  We have compiled a list of our most-read articles about stainless steel and listed them below so you can access them all from one location.
What Is Stainless Steel? Part I
Read this introduction to the world's most popular metal. Learn what it is made of, how it is used, and what the word 'stainless' really means when referring to a variety of steel types.
What is Stainless Steel? Part II: The Stainless Steel Extended Family
The multitude of stainless steel grades are grouped into five primary classifications. Find out which is the most widely used type of stainless steel, which has better corrosion, heat, and cracking resistance, and which is very hard and strong, though not as resistant to corrosion.
What Do Stainless Steel and Garlic Have in Common?
Tellurium is a metalloid, meaning it possesses the properties of both metals and nonmetals. It has a silvery-white appearance, and exhibits a metallic luster when pure. It's an additive to steel, but can lead to a garlic odor on the breath upon human exposure.
PMI Testing of 347 Stainless Steel: As-Delivered vs. As-WeldedIn a competitive industrial climate, manufacturers must be vigilant about maintaining the quality of their products.  Even the smallest deviation from specifications of items like raw materials, fasteners, and welds can affect the quality of the product and the reputation of the company.
Why Surface Analysis Is the Key to Optimum Stainless Steel Performance
Ensuring a surface is free from contaminants is extremely important in guaranteeing that materials such as steel meet their desired performance specifications. Learn about an experiment and results using an XPS instrument to acquire elemental maps to identify the spatial distribution and chemical nature of the contamination on a stainless steel sample.
And if you want to take a look at a piece of stainless steel, just walk into your kitchen.  Most cutlery, knife blades, kitchen accessories, and cookware are made of this strong, corrosion resistant metal.
Additional Resources: