[Administrative Note: Because this is usually the busiest season for jewelers and pawnbrokers, this month we will be offering several articles that would be helpful to those who deal in precious metals. Today's article addresses fake gold hitting pawn shops and jewelry stores.]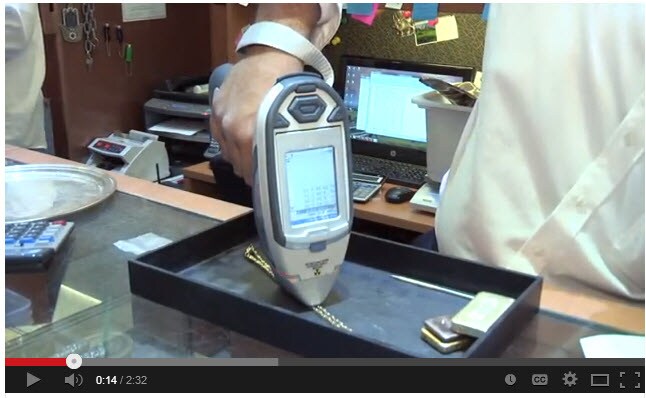 The livelihood of businesses that buy and recycle gold, such as jewelry stores and pawn shops, depends in part on being able to identify fake gold and to determine the accurate karat (K) weight of gold jewelry. With the volatility and high price of gold, failing to detect just a small variation in composition can be an expensive mistake. Even the seemingly simple task of distinguishing between gold plating and solid gold can be a challenge as counterfeiters become more adept.
Gold plated means that the jewelry is made with a layer of gold on the surface over another type of metal underneath. The most common identifying marks on gold plate are HGE (gold electroplate) and RGP (rolled gold plate), but not all gold-plated jewelry has such a stamp. High-quality gold plate can be thick enough to pass nitric acid scratch test, which only tests the surface layer. A deeper cut to the piece may yield more information about its content but will also damage it.
Other verification methods include weighing the jewelry in question against a known gold piece, or submerging the piece in water and measuring the displacement. Gold jewelry can be examined with a loupe to check for different colors under worn areas. Many jewelers also test with a strong magnet, as real gold isn't magnetic.
Jewelers and pawn brokers that fail to verify the gold that comes into their shops using at least a couple of methods will fall prey to increasingly sophisticated counterfeiters who know how to get around these tests. Recent news stories describe scams involving jewelry made with non-magnetic metals that mimic gold, fakes plated with enough gold so as to appear to be all gold, or gold-plated or copper counterfeits stamped 14K or 18K.
"The fakes are getting better," says one pawn shop owner. "They're beating the magnet test, the weight test. Nowadays, gold needs to be tested several ways, including scratch testing or cutting into the metal, even if it means ruining the piece. Unfortunately, most of my customers intend to reclaim their jewelry and don't want it damaged."
To be absolutely certain of the composition of gold and other precious metals, many businesses are now turning to X-ray fluorescence (XRF) technology.  XRF analyzers provide a fast, accurate, and most importantly, a nondestructive method to test the purity and composition of all precious metals. XRF quickly provides the exact karat weight and percentages of all elements within an item – easily identifying non-standard, under-karated, and even advanced counterfeit material that acid testing is incapable of differentiating.  What's more, some XRF instruments feature technology that can identify gold-plated items that, undetected, could adversely affect the profitability of your business. This functionality not only protects your interests but those of your clients, who can see for themselves the exact percentage of pure gold in their jewelry.
XRF analysis also can work in tandem with traditional testing to identify more heavily gold-plated items. When readings taken with an XRF analyzer on four or five different areas on a piece show differing results, this can be an indication that the item is heavily plated and further testing is warranted.  This would mean filing or drilling into the item to expose material beneath the surface layer.
See how XRF analysis compares with traditional acid testing in this 2-1/2 minute video.