In an effort to address the Flow-accelerated corrosion, or FAC issue, in nuclear and fossil-fuel power plants, the International Atomic Energy Agency (IAEA) launched a Coordinated Research Project (CRP), the Review and Benchmark of Calculation Methods of Piping Wall Thinning due to Erosion-Corrosion in Nuclear Power Plants to develop a guideline for the management of pipe wall thinning. The study participants have completed predictive modeling studies and plan to finalize the project this year.
FAC occurs when carbon steel piping and components are degraded by flowing water or steam water with low-dissolved oxygen. As the water flows against the carbon steel material, the stable surface oxide layer (typically Fe3O4) is dissolved into the flowing stream – thinning the walls of piping over time and causing them to rupture.
Both laboratory testing and plant experience have shown that material composition, particularly trace chromium content, is the most important variable influencing FAC. Monitoring the trace alloy content of carbon steel piping and components allows for more effective and efficient planning of inspection protocol, reducing downtime, saving costs and reducing accidents. Handheld x-ray fluorescence (XRF) technology is a valid method for monitoring the trace alloy content of carbon steel piping where FAC is a concern. Handheld XRF instruments are available that offer:
Low detection limits for chromium (Cr), copper (Cu), and molybdenum (Mo) in carbon steel
Fast, nondestructive analysis
Easy reporting and data export.
The data in Table 1 below details the detection limits of a handheld XRF instrument using different analysis times. The user can select the actual analysis time freely based on required analysis precision. Increasing the analysis time will reduce the detection limits by the square root of the increased time. Table 2 shows the impressive repeatability for low levels of Cr, Cu, and Mo in carbon steel using the same handheld XRF analyzer.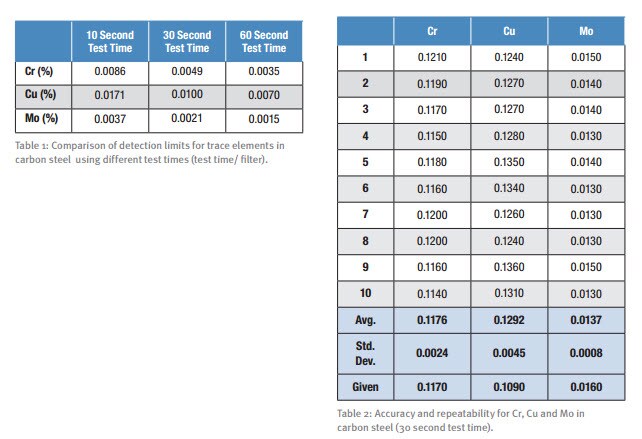 Read the application note, Use of Handheld XRF in the FAC Inspection Protocol to see additional data and analysis of the performance of a handheld XRF analyzer for the FAC application.
Additional Resources: