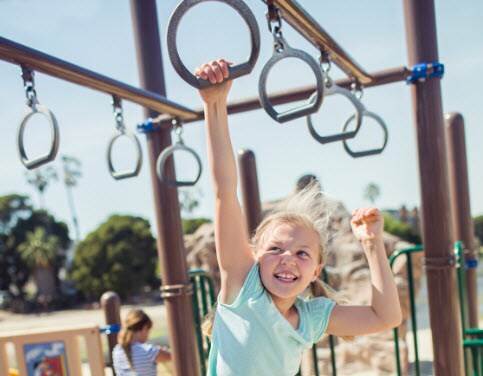 Almost every child who has spent summer days at the playground can relate to the 'ouch' after grabbing onto a playground swing chain, wrapping one's fingers around the monkey bars, or sliding down those shiny silver slides.  Metal gets hot in the sun.  It gets so hot, it can burn.
The U.S. Consumer Product Safety Commission (CPSC) published a fact sheet to warn parents (and those in charge of youth) about thermal burns that can be received from playground equipment.  The Commission advises parents to check for hot surfaces on metal playground equipment before allowing young children to play on it. Solid steel decks, slides, or steps in direct sunlight may reach temperatures high enough to cause serious contact burn injuries in a matter of seconds.
However, heating metals is critical to alloying to change the properties of the metal to create the right material for the job. An alloy is a mixture of elements that produces a new type of metal that is harder, stronger, or lighter, or is more resistant to corrosion, welds better, or is cheaper.  In other words, it contains characteristics that are different than the base metal itself.  Alloys are usually made by melting and mixing the elements. The ability of a metal to become liquid by the application of heat (fusibility) is vitally important. Metals are fused in welding.  According to the Federal Aviation Admininstration (FAA), steels fuse around 2,600°F and aluminum alloys at approximately 1,100°F.
Thermal Conductivity
The thermal conductivity of a substance indicates its ability to conduct heat. Metals are good conductors of heat, as many people find out when they try to buckle their seatbelt after the car has been sitting in the sun all day and accidentally grab the metal piece instead of the strap. (Ouch!) But is one metal hotter than another? According to an article on the Ask the Van web page of the Department of Physics at the University of Illinois at Urbana-Champaign, pure metals and metallic alloys conduct heat differently.
"If you compare a metallic alloy with the pure metals it's made of, you're right [that elements conduct heat better than alloys and] that the alloy tends to be worse. That's because the heat is conducted around by waves — mostly electron waves but also some sound waves. The variation from one type of atom to the next in an alloy makes for a sort of bumpy environment, where the waves bounce around instead of traveling a long way in one direction. So they don't conduct heat as well from one place to the next. The same principle works pretty well for insulators, where the heat is carried around just by sound waves, not by electron waves.
The Engineering Toolbox published several helpful charts of Thermal Conductivity of Some Common Metals,  Specific Heat of Metals and Metalloids, and Melting Temperatures of Common Metals and Alloys.   If you are fabricating metals, or using metals in your manufacturing process, you must be certain of the exact elements that make up the alloy – or confirm if the metal is pure.  Since different metals and alloys have different melting points, the type of metal contained in your melt could change the properties of your finished product and at the very least, not meet customer specifications.  At the very worst, if the customer does not perform incoming positive material identification (PMI), catastrophes could happen.  Could automotive or airplane parts fail if a very hot engine was composed of metal alloy parts that did not meet the specifications?
Importance of Using the Right Metal or Alloy
The FAA warns that for metals used in aircraft maintenance,
"Knowledge and understanding of the uses, strengths, limitations, and other characteristics of structural metals is vital to properly construct and maintain any equipment, especially airframes. In aircraft maintenance and repair, even a slight deviation from design specification, or the substitution of inferior materials, may result in the loss of both lives and equipment. The use of unsuitable materials can readily erase the finest craftsmanship. The selection of the correct material for a specific repair job demands familiarity with the most common physical properties of various metals…."
"The heat conductivity of a metal is especially important in welding because it governs the amount of heat that will be required for proper fusion. Conductivity of the metal, to a certain extent, determines the type of jig to be used to control expansion and contraction. In aircraft, electrical conductivity must also be considered in conjunction with bonding, to eliminate radio interference."
Yes, I think we can say that metal alloy material verification for quality assurance and quality control (QA/QC) is critical to product integrity, and can affect the safety of products or components. Using an X-Ray Fluorescent (XRF) analyzer can help manufacturers avoid incorrect or out-of-specification metal alloys that can lead to premature and potentially catastrophic part failures.
What is XRF?
XRF (X-ray fluorescence) is a non-destructive analytical technique used to determine the elemental composition of materials. XRF analyzers determine the chemistry of a metal sample by measuring the fluorescent (or secondary) X-ray emitted from a sample when it is excited by a primary X-ray source. Each of the elements present in a sample produces a set of characteristic fluorescent X-rays ("a fingerprint") that is unique for that specific element, which is why XRF spectroscopy is an excellent technology for qualitative and quantitative analysis of material composition. (You can learn more about X-Ray technology in this free ebook.)
Handheld XRF can be used for inspection of incoming raw material to verify the alloy grade and composition prior to product manufacture. It can also used for final quality inspection before finished parts are sent to the customer. This "double-check" process helps ensure that the incoming raw materials and the outgoing finished parts meet the expected engineering requirements.
Even manufacturers who are involved in risky industries, like race car driving, don't take risks with the production of metal parts.  (Take a look at this two-minute video to see how makers of Nascar racing cars (scroll down the page to find the video) use handheld XRF analyzers to measure all the metal they use in car fabrication, from the chassis to suspension components, to make sure they are up to design specs.)
According to Farmer's Almanac, above-normal temperatures are on tap for most areas of the country.  So grab a popsicle and be careful when you are buckling your seat belt – whether in a race car or mini-van.
Additional Resources: