As the dog days of summer come upon us here in the northeast area of the United States, many minds are on vacationing — whether it's at the beach, in the mountains, or on the golf course. The one thing they all have in common is the outdoors and how the sun, if we are lucky, will shine down upon us. (It was a long winter here.)
But when the sun comes out, so should the sunscreen.  Many hope sunning will help them look tan or copper-toned, but, according to dermatologist Jennifer Stein, MD, PhD, in an article on Web MD, there are some myths out there about sunning and sunscreen.  "If you've got a tan, either from the sun or a tanning bed,  it means your skin is damaged," she writes. And although you can use a bronzer sun tan lotion, there is no bronze listed in the ingredients.  However, some do contain metals, like titanium dioxide to filter out UVA and UVB rays. Zinc oxide is also commonly used in ointments, creams, and lotions to protect against sunburn and other damage to the skin caused by ultraviolet light.
Speaking of copper-toned, take a look at this statue that greeted attendees at the Exponor Chile 15 mining show in May.  Yes, that giant statue is made of copper.  According to the International Copper Study Group, Chile accounts for almost one‐third of world copper mine production with mine output of almost 5.8 million tonnes copper (2013 figures). That's a big copper statue for a big copper producer. We even had our partner take our XRF analyzer outside the exhibit hall and do an analysis. (Don't worry:  x-ray fluorescence is a non-destructive analytical technique used to determine the chemical composition of materials.) In seconds, she found out that the foot of the statue was made of 99.8% copper and .2% iron.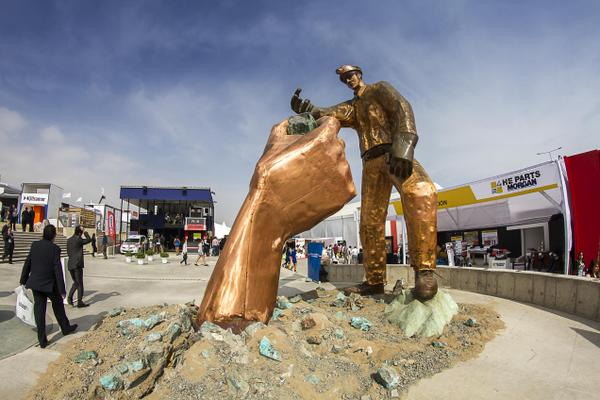 It looks like the statue has grown out from the copper ore. The green rocks on the ground are copper ore, and many copper ore types are green, like malachite, copper carbonate hydroxide mineral Cu2CO3(OH)2.  (photo used with permission from Asociación de Industriales de Antofagasta)
Why all the copper talk?  We will be dedicating each Tuesday in July and August to number 29 on the periodic table.  So stay tuned for more copper talk, and don't forget your sunscreen.