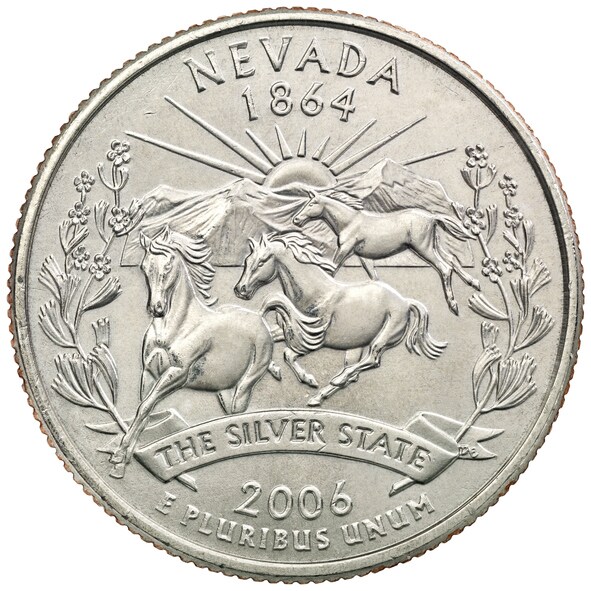 It sounds ridiculous, but it was true. According to State Symbols USA, the "nickname for Nevada is The Silver State, dating from the Nevada silver rush days of the mid 1800's. At that time silver was literally shoveled off the ground in Nevada; heavy gray crusts of silver had formed on the surface of the desert over millions of years and were polished by dust and wind to the dull luster of a cow horn (called 'horn silver'). A big silver bed could be tens of meters wide and more than a kilometer long."
The Royal Society of Chemistry reports that the name "Silver" is derived from the Anglo-Saxon name, 'siolfur', it is Atomic number 47 on the periodic table, goes by the symbol Ag, and was discovered around 3000BC. You can learn more about silver in this Infographic: 9 Fast Facts About Silver [link]
We are often reminded that Nevada is known for its silver, especially when we are counting our change. Over a decade ago, the US Mint's bicentennial commemorative quarter for Nevada featured wild mustangs, mountains, a rising sun, sagebrush, and the state's nickname: The Silver State.
Ironically, most Nevada quarters, like all recent quarters, are not made of silver. According to Coin Week, some state quarters were available in five-piece silver proof sets as well as clad. Originally all quarters were composed of 90% silver. But according to the U.S. Mint, a silver crisis caused the replacement of silver in 1966. Today these coins are now composed of cupro-nickel clad, with a pure copper core, and an outer layer of a 75 percent copper, 25 percent nickel alloy. The stated worth of these silver quarters can be left to the coin houses. But any collectors, dealers, or pawn shops considering purchasing these coins for melting or collecting, should make sure they are not fake.
Fake numismatic coins are being brought into pawn shops all the time. Those quarters can add up to big money. Counterfeiters are becoming so skilled at replicating the weight, appearance, and strike cleanliness of real coins that high quality fakes can easily be passed off as genuine articles. The mint year that is stamped on a numismatic can indicate its precious metal content, but there are cases where the composition is changed mid-year, voiding the date as a means of verification and changing the value dramatically. Identification by mint date is also impractical for wholesalers who don't have time to evaluate each coin individually.
Many high quality silver fakes have exact weighting and dimensions, and to the untrained eye (or to the dealer without counterfeit proofing technologies) can easily be passed off as genuine bullion products. And old silver coins can be worth thousands.
We previously wrote in These Coins Don't Make The Grade about a pawnbroker who was scammed out of $4,000 because he did not confirm the authenticity of two silver coins. Portable XRF analyzers for precious metals provide a fast, accurate, and most importantly, a nondestructive method to test the purity and composition of all precious metals, including silver. XRF quickly determines the presence and concentration of other trace alloying elements including lead, a common coin counterfeiting metal.
A quarter may only be worth twenty-five cents to some. But if it's a collector's coin, it could be worth thousands. Don't take a gamble; make sure you know the difference.

Learn more about this much utilized, highly malleable, reflective, and ductile metal in our latest Infographic: 9 Fast Facts About Silver