Galvanized steel means there is a coating of zinc on the steel, which helps provides protection against corrosion. But, according to the US General Services Administration, galvanized iron and steel's resistance to corrosion depends largely on the type and thickness of the protective zinc coating and the type of corrosive environment.
That's why manufacturers of galvanized steel must measure coatings as the material is processed. Metal thickness and coating measurement systems provide precise, real-time measurements that meet the specifications of any application while maximizing raw material use. From hot-dipped or electro-deposited to roll coated or sprayed-on coatings, accurate coating weight measurements help assure uniform coverage for the highest quality finished products.
Online coating weight measurement by XRF technology brings galvanizing lines the benefit of near real-time independent sensors that provide feedback on the product outcome. Process engineers can use the output of these instruments to tune process variables to optimize raw material, energy consumption and yield.
One of the first practical considerations in selecting a sensor is that it must be non-contact.
The coating applied has a primary job to inhibit corrosion, but in many cases, its secondary task, to look good, is equally important. If the sensor touches the strip at all, it would make marks, and lose much of its appeal to consumers. In the typical hot dip line (see below) the logical location for a coating sensor is directly above the air knife for minimum feedback time.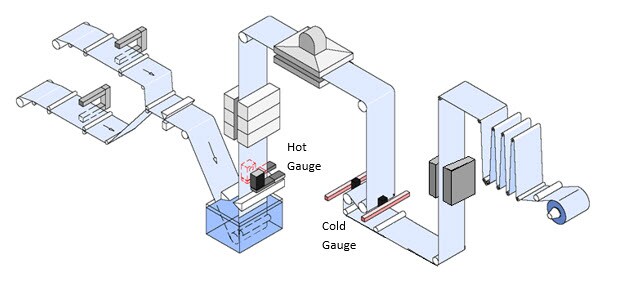 Hot Dip Galvanizing (HDG) Line with Cold Gauge and Hot Gauge Measurements
However, the heat from the pot and horizontal strip movement physically limit a cross-strip measurement sensor at this location.
The more traditional sensor placement is well downstream from the cooling tower, where the environment is a bit friendlier to sensors scanning from edge to edge. A complete sensor solution that includes sensors in both locations provides maximum process optimization.
Read the white paper Challenges Associated with Developing XRF Coating Weight Standards that includes a review of XRF coating weight gauges, the measuring principles behind the systems, calibration methods, and more.