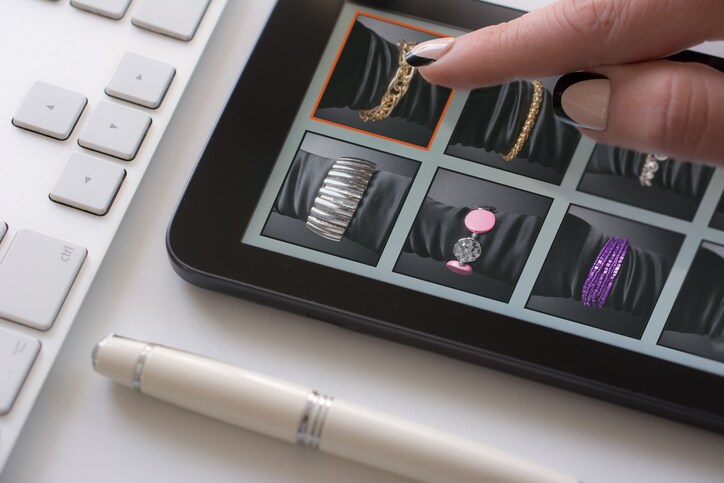 In June, JCK, a well-known industry authority in the jewelry business, revealed a report on the state of the jewelry industry. The good news is that when asked about the way the jewelry industry sees itself, 88 percent of survey respondents said they were at least somewhat, if not very, optimistic about the next twelve months. The bad news is the rise of e-commerce.
Normally, a rise in e-commerce is a good thing. However, there are many brick-and-mortar jewelry store owners who are worrying about their businesses. But that is not what we will address today. The concerns we have for e-commerce have to do with the authenticity of the products ordered.
Anyone can post pictures of sparkly rings and dramatic gold necklaces and bangles. But the buyer must be aware. If you are not buying from an established retailer, what you see on the site's ordering page may not be what you get. And if you are buying pieces online to re-sell, you may also be jeopardizing your business.
Because of high gold prices, plated jewelry is becoming more acceptable. Gold plated means that the jewelry is made with a layer of gold on the surface over another type of metal underneath. That's OK if the buyer knows the content of the metal, but if they think they are buying solid gold – and paying for solid gold – and find out later it is gold-plated, they will not be happy. And if you sold them the piece, big problems can arise. Failing to detect just a small variation in composition can be an expensive mistake. Even the seemingly simple task of distinguishing between gold plating and solid gold can be a challenge as counterfeiters become more adept.
In the past we wrote about how Fake Gold Bead Necklaces Were Fooling Shop Owners. A pawn shop owner described how a customer came into the store with two sets of "gold" bead necklaces she wanted to sell. The beads looked real, but of course the owner wanted to verify the gold first. He used rare-earth magnets and the acid test, and the beads passed. But the owner later discovered – after he bought the beads for almost $2,000 cash – that some of the beads were solid gold and some were just plated. If a seasoned shop owner can be fooled, then an online buyer can be as well.
If you are selling, or re-selling, gold or other precious metals, you should verify the precious metal content of every piece before it goes out the door. There are several ways to test precious metals, including weighing the jewelry in question against a known gold piece, or submerging the piece in water and measuring the displacement. Gold jewelry can be examined with a loupe to check for different colors under worn areas. As mentioned in the gold bead story, many jewelers also test with a strong magnet (as real gold isn't magnetic), and with an acid test (which is an archaic corrosive method that can damage the gold, hurt your skin, and produce inaccurate results). (Read Seth Gold Tells All: National Pawnbroker of the Year Explains the Need to Drop the Acid.)
Many counterfeiters know how to get around these tests and there are reports of scams involving jewelry made with non-magnetic metals that mimic gold, fakes plated with enough gold so as to appear to be all gold, or gold-plated or copper counterfeits stamped 14K or 18K.
An XRF precious metals analyzer that utilizes gold-plating technology is one of the most accurate verification solutions. XRF analyzers provide a fast and most importantly, nondestructive, method to test the purity and composition of precious metals. XRF quickly provides the exact karat weight and percentages of all elements within an item – easily identifying non-standard, under-karated, and even advanced counterfeit material that acid testing is incapable of differentiating. What's more, some XRF instruments feature technology that can identify gold-plated items that, undetected, could adversely affect the profitability of your business. This functionality not only protects your interests but those of your clients, who can see for themselves the exact percentage of pure gold in their jewelry.
As a matter of fact, in these days of social media, you can use video tools to operate a portable XRF analyzer live, on camera, and in seconds, show potential online customers the precious metal content of pieces they are considering. It could help alleviate some concerns they have about buying online.
In the JCK article, senior vice president of Reed Jewelry Group, Yancy Weinrich, said of the results in the report: "It is exciting to see the positivity in the industry….This leads us to be encouraged that the JCK Jewelry Industry Confidence Index, which has made its debut at an impressive 88 percent, will stand strong in years to come, and be supposed by growing sales and strong, adaptable, independent businesses."
To help ensure the upward trend happens, the jewelry industry needs to arm themselves with the tools they need to verify that what they think they are buying online is what they are really selling to their customers.
See how XRF analysis compares with traditional acid testing in this 2-1/2 minute video.