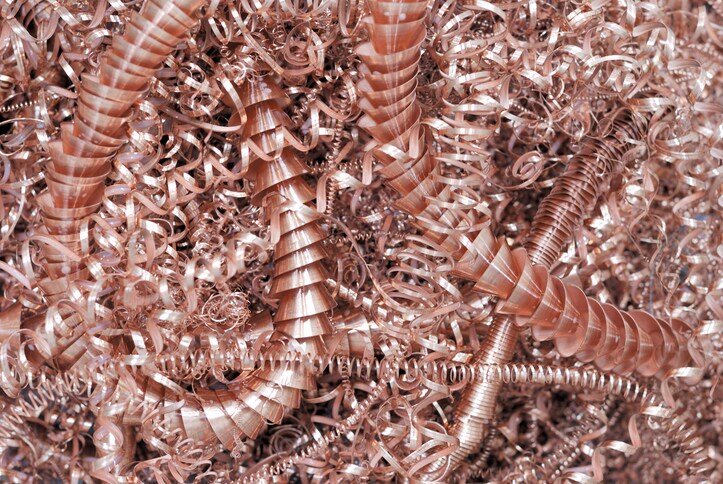 The International Copper Study Group (ICSG) is an intergovernmental organization that serves to increase copper market transparency and promote international discussions and cooperation on issues related to copper. The ICSG publishes The World Copper Factbook 2016 which encompasses topics including copper mining, production, trade, and usage. According to the Factbook,
Refined copper usage (usage by semis plants or the first users of copper) in 2015 reached 23.0 million tonnes. China was also the largest consumer of refined copper in 2015 with apparent usage of around 11.3 million tonnes.
According to the International Copper Association (ICA), equipment was the largest copper end‐use sector in 2015, followed by building construction and infrastructure.
New copper applications being developed include antimicrobial copper touch surfaces, lead‐free brass plumbing, high tech copper wire, heat exchangers, and new consumer products.
The USGS 2017 Mineral Commodity Summary on Copper also offers some useful information on copper usage:
Refined copper and scrap were used at about 30 brass mills, 13 rod mills, and 500 foundries and miscellaneous consumers. Copper and copper alloy products were used in building construction, 44%; transportation equipment, 19%; electric and electronic products, 18%; consumer and general products, 12%; and industrial machinery and equipment, 7%.
Old scrap, converted to refined metal and alloys, provided 170,000 tons of copper, equivalent to 9% of apparent consumption. Purchased new scrap, derived from fabricating operations, yielded 640,000 tons of contained copper. Of the total copper recovered from scrap (including aluminum- and nickel-based scrap), brass mills recovered 73%; copper smelters, refiners, and ingot makers, 21%; and miscellaneous manufacturers, foundries, and chemical plants, 6%. Copper in all scrap contributed about 31% of the U.S. copper supply.
Recycling copper extends its useful life, so much so that, as reported on CopperAlliance.org, 75% of copper produced since 1900 is still in use. Because recycled copper retains it electrical conductivity, it not only helps increase energy efficiency in many power systems but the copper recycling process consumes up to 85% less energy than its primary production, representing an annual savings of 40 million tons of CO2. In many renewable energy systems, 12-times more copper is used than in traditional systems to ensure efficiency.
Using recycled metals is becoming more prevalent so manufacturers must analyze incoming raw materials carefully to ensure the elements in the materials will not be detrimental to the product, or ultimately their brand. To ensure they are shipping quality products, portable XRF analyzers can be utilized throughout the facilities to inspect all incoming metals against paperwork, for quality checks upon receipt of the raw material scrap, and for final analysis of the finished product before the material leaves the facility.
Note: The ICSG met in Lisbon, Portugal in October 2016 to discuss key issues affecting the global copper market. Read their press release, Copper Market Forecast 2016-2017.
For more blog articles about copper, read Copper Compendium: The Whole Story.