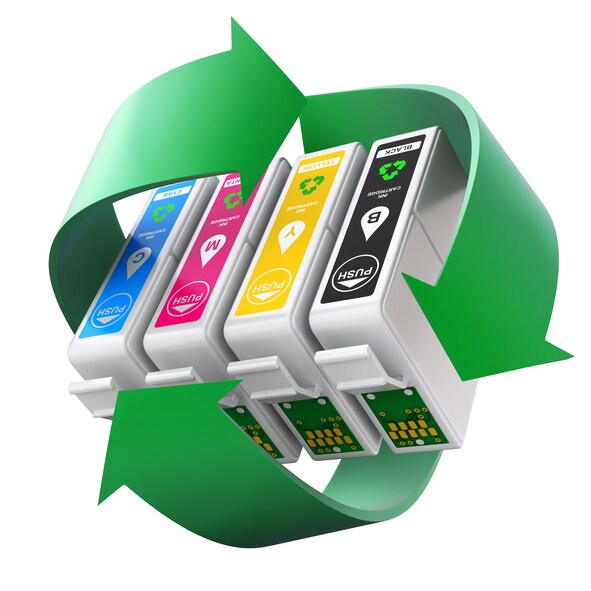 Typically we think of electronic waste (e-waste) as any electronic or electrical product, including TVs, computers, phones, home entertainment systems, and household appliances, that has become part of the waste stream. But e-waste also includes discarded printer cartridges. Like many electronic devices, printer toner cartridges are often not recycled but thrown in the trash, where they end up in landfills leaching hazardous substances into the ground.
To address this issue, a group of researchers has developed a way to make iron using the residual powder in used printer cartridges. The study was presented in ACS Sustainable Chemistry & Engineering. Following is a summary appearing in Sciencedaily.com:
According to the European Toner and Inkjet Remanufacturers Association, 500 million cartridges out of the estimated 1.1 billion sold each year end up in landfills around the world. These "empty" cartridges can contain up to 8 percent of unused residual powder by weight and could leach compounds into the soil and underground water sources. In an attempt to reuse this electronic waste, researchers have transformed this substance into oils, gases and even an ingredient in asphalt. Now, Vaibhav Gaikwad and colleagues wanted to develop a brand-new way to re-use residual toner.
The researchers put toner powder in a furnace, heating it to 1,550 °C. This process converted the inherent iron oxide to a product that was 98 percent pure iron using the polymer resins within the toner powder as a source of carbon. The researchers say that this method would be ideal for industrial applications because iron and steel are typically made at this temperature. In addition, heating the powder at such a high temperature prevents toxic side products from forming, providing an environmentally friendly way to recycle residual toner.
Many U.S. states ban the disposal of electronic devices in landfills and at least 25 states have passed legislation requiring e-waste recycling, yet many electronics end up as trash and eventually make their way to the scrap yard. Often they are shredded and combined with other metals, making it impossible to determine the exact content without careful analysis. Scrap metal recyclers know what they'll find in products that are still intact, but if the devices are shredded there could be any number of metals in varying quantities, along with hazardous materials. Fast, accurate scrap metal sorting is a fundamental part of the scrap yard operation to increase recovery of reusable materials and screen out the harmful ones so that the metal can be sold for remanufacturing into new products. Scrap metal recyclers have discovered that handheld x-ray fluorescence (XRF) analyzers are the best way to positively identify numerous alloys, rapidly analyze their chemical composition at material transfer points, and guarantee the quality of their product to their customers.