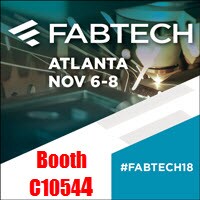 More than 35,000 attendees and over 1,500 exhibiting companies are expected to gather in Atlanta at FABTECH from November 6-8, 2018, to celebrate metal manufacturing. The show website touts the event as "North America's largest metal forming, fabricating, welding and finishing event … [which] provides a convenient 'one-stop shop' venue where you can meet with world-class suppliers, see the latest industry products and developments, and find the tools to improve productivity, increase profits and discover new solutions to all of your metal forming, fabricating, welding and finishing needs."
Wow, that's quite a mouthful of information. What you really need to know is that if you are interested in the latest technology and equipment for the fabrication and manufacturing industry, you should be at the Georgia World Congress Center next week.
In addition to the many exhibitor booths, there will be over 130 targeted educational sessions, three massive exhibit halls full of new products and technology, FABx Tech Talk presentations, small group sessions hosted by experts, smart manufacturing hubs showcasing the most advanced technologies, and a 3D/Additive manufacturing pavilion.
If you're looking for a personal invitation, here's a video of my colleague Pete Anzalone, welcoming you to visit our booth and find information about metal and alloy verification technology.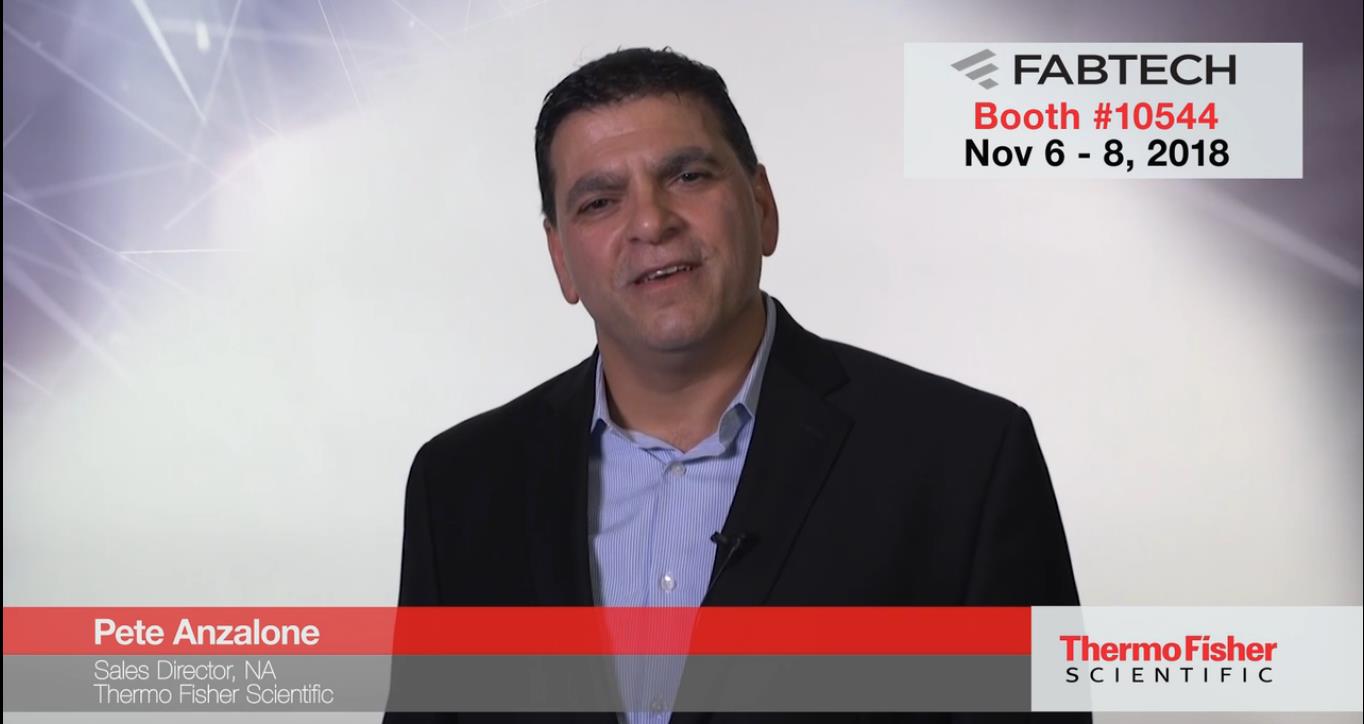 Stop by booth #C10544 to get real-time, hands-on demonstrations of X-ray fluorescence (XRF) instruments. Handheld XRF analyzers are essential to verifying metal alloys for manufacturing quality assurance. Talk to our experts about how to combat the rise in counterfeit metals and inaccurate material test reports (MTRs), due to globalized trade in scrap metal.
Verification and Positive Material Identification (PMI) of metal alloys has never been more important for product reliability and safety. There are several examples of the need for verification throughout the manufacturing process. If metal fasteners used in critical applications such as in the manufacture of airplane parts are not made with the precise alloy required, they cannot support the weight and stresses they are designed to bear. In the automotive industry, even slight variations in the steel grade recipe can render the parts defective. From metal production to service centers and distributors, and component fabrication to final product assembly, the potential for material mix-ups is very real, and the need for traceability is now a priority.
Want to get away from metal talk? Atlanta is an amazing city with a lot of attractions. If you want to stay some extra days, make sure you buy a city pass and visit the CNN Headquarters, the Coca Cola Museum, the Mercedes Benz Stadium (site for our 2019 Super Bowl) and the Georgia Aquarium, the second largest aquarium in the world.
Make sure you also rent a bike or an electric scooter and stroll down the Atlanta Belt line to an incredible new area in Historic Fourth Ward Park called "Common Ground". You will find a group of great eateries/breweries in town such as New Realm, Two Urban Licks and Estrella. You will be able to eat great food, drink great craft beer while you enjoy the most amazing view of Midtown and Downtown Atlanta.
I hope you get to attend FABTECH and experience Atlanta, but if you can't be there, make sure you download our free eBook, XRF Technology for Non-scientists to learn more about XRF, and visit our Metal Alloys Analyzers for QA & QC page for videos, customer testimonials, featured applications, and additional raw material and finished goods testing resources for the aerospace, foundry, coatings, automotive, and pharmaceutical equipment industries.
Show Details:
November 6-8, 2018
Georgia World Congress Center
Booth C10544
Atlanta, Georgia USA