This show has so many attendees it rivals the populations of many large towns.  At 48,000 participants and 1,700 exhibitors, FABTECH has earned its reputation of being North America's largest metal forming, fabricating, welding and finishing event. Located at Chicago's McCormick Place, the Nov. 11-14, 2019, show is offering over 175 educational programs, 3 featured technology pavilions (Robotics and Industrial Automation, 3D/Additive Manufacturing, and Tube & Pipe Producers and Suppliers), and a showcase of new equipment and technology to help make businesses more productive and profitable.
I'm looking forward to hearing the FABx and keynote presentations.  This year, in honor of Veterans Day, there will be presentations from visionary veterans with incredible stories of excelling in leadership, business, advanced manufacturing and workforce development. Also, Chad Hennings, a famed football champion and a veteran himself, will discuss how integrity, identity, and commitment leads to a lifestyle of excellence. Frank Abagnale, cybersecurity expert and bestselling author and subject of "Catch Me If You Can" will instruct attendees on how to protect themselves and their businesses from fraud.
There will be other presentations and panel discussions on the state of the industry of automation, disruptive technology and the future of manufacturing, and emerging and advanced technologies. The Smart Manufacturing Hub will feature several advanced manufacturing technologies, including automation, advanced materials, 3D printing, the Industrial Internet of Things (IIoT), 3D scanning, and more.
If you are looking for technology that will help in verifying metal alloys for manufacturing quality assurance, stop by our booth D47166,  where we will be demonstrating handheld LIBS and X-ray fluorescence (XRF) instruments. Talk to our experts about how to combat the rise in counterfeit metals and inaccurate material test reports (MTRs), due to globalized trade in scrap metal.
Get a peek at the newest technology for metal identification that uses Laser Induced Breakdown Spectroscopy (LIBS) to help identify low alloy/ carbon steels and L and H grade steels. See how you can quickly and accurately determine alloy composition and grade for a wide range of metal chemistries, ensuring that no incorrect or out of specification metal alloys enter the manufacturing process, and improve QA/QC, increasing confidence in risk-management practices.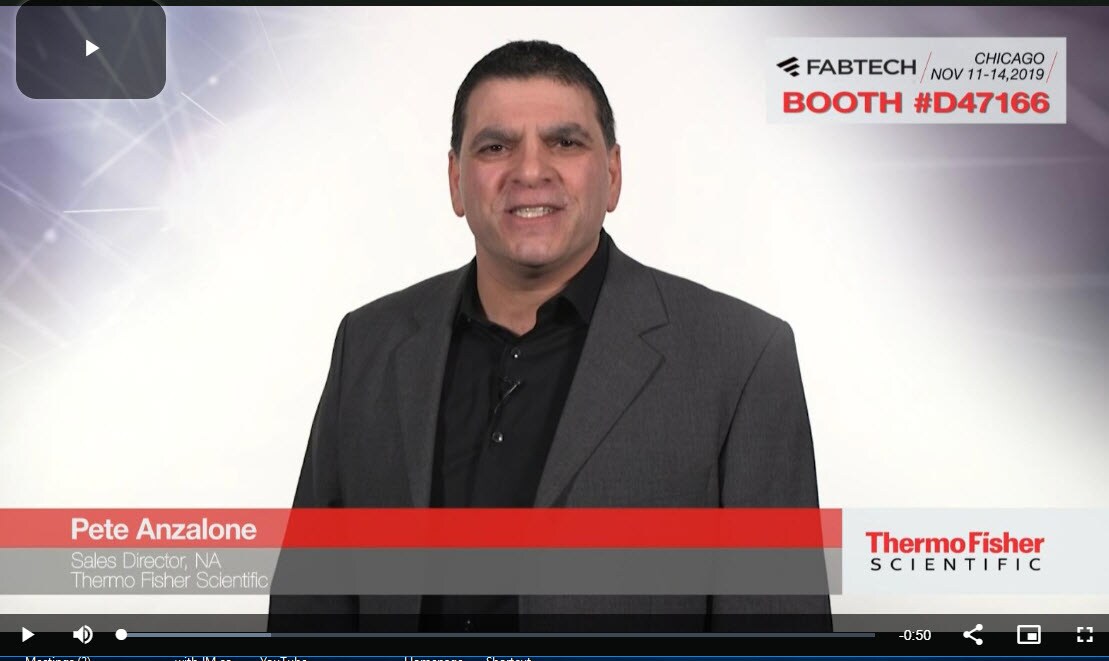 If you're looking for a personal invitation, here's a video of my colleague Pete Anzalone, inviting you to visit our booth and learn more about elemental analysis and metal and alloy verification technology.  Bring a metal sample and challenge the team. Even better, download the free pass to the show floor (details below).
If you can't make it to the show, follow the twitter feed using #FABTECH19 or visit our website for more information about our manufacturing and metal fabrication technology.
Show Details:
November 11-14, 2019
McCormick Place
Booth D47166
Chicago, IL  USA
Free Show Floor Admission Pass – Register here: Use Promo Code: 10973889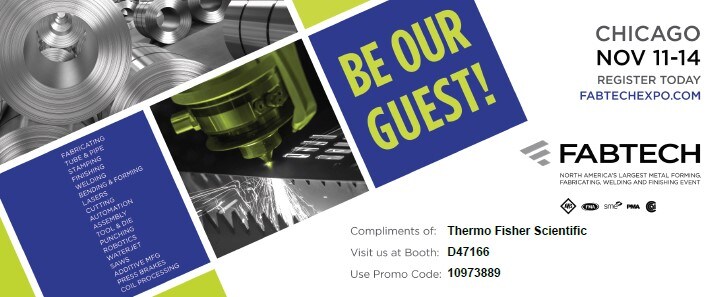 Additional Resources: