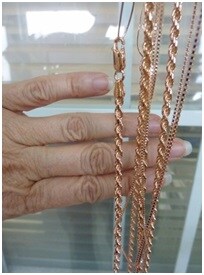 Thinking of buying some jewelry as a Mother's Day gift? Maybe a fresh coat of gold on the old jewelry is all that is needed. As we learned in a previous article, gold plated items are made with a layer of gold on the surface over another type of metal or alloy underneath. The jewelry industry typically uses plating to give a gold finish to the final piece.
Shop owners who offer cash for gold need to be diligent in analyzing the metal to ensure they are absolutely certain of the gold and other precious metals content. If there is plating on the surface, the jewelry will fool the traditional testing methods (eg magnet test and acid test), and the business will lose money). [A portable XRF analyzer is a nondestructive solution that can quickly measure the gold and precious metal content, distinguish between gold plating and solid gold, and determine the accurate karat (K) weight of gold jewelry.]
Except in a minority of cases, gold plating is not meant to deceive. There are several reasons for layering metals, including costs, wearability, and creativity.
Calla Gold, a Santa Barbara jeweler specializing in custom jewelry design and jewelry repair, explains that "plating is used to decorate objects, for corrosion inhibition, to improve solderability, to harden, to improve wearability, to reduce friction, to improve paint adhesion, to alter conductivity, and for other purposes."
In addition, she believes gold plating technology was a godsend to jewelry lovers when it was invented because it gave rise to an explosion of jewelry making and creativity. According to Calla, there is a reason that there is a thriving collectable market for some costume jewelry. "In costume jewelry making, with the lower cost threshold for materials, artists are able to create experimental and fanciful designs that are embraced by the market and in turn inspire fine jewelry makers to take greater chances with style and form."
Jewelry can also be plated to give it a certain color tone. As an example, a white metal look can be achieved by applying a rhodium plating. In fact, according to Calla, rhodium is extremely tough, and is able to resist corrosion and scratches. Its silvery color and highly reflective nature also make the jewelry "pop!" It is because of this toughness and highly reflective nature that rhodium makes an excellent plating material.
Other metals can also be applied to adjust color tones and produce pieces of a certain color. Rose gold has been a popular look lately and some antique rings have details in green gold and re-plating them brings back their cool vintage look.
Calla also explained that one of the main reasons older jewelry is re-plated, is to improve the gold color of the piece. "After years of wear, the old gold plating — even if not worn off — can just look sad and dull. Real gold jewelry can also look old and tired and in need of a good plating treatment to look its best. A new gold plating treatment gives it new life and pizazz!"
Calla Gold (yes, that's her real name) will be authoring the next two articles on gold plating. Stay tuned to learn Gold Plating Best Practices and How Gold Plating is Done, Step by Step.
And don't forget that Mother's Day is May 10th!