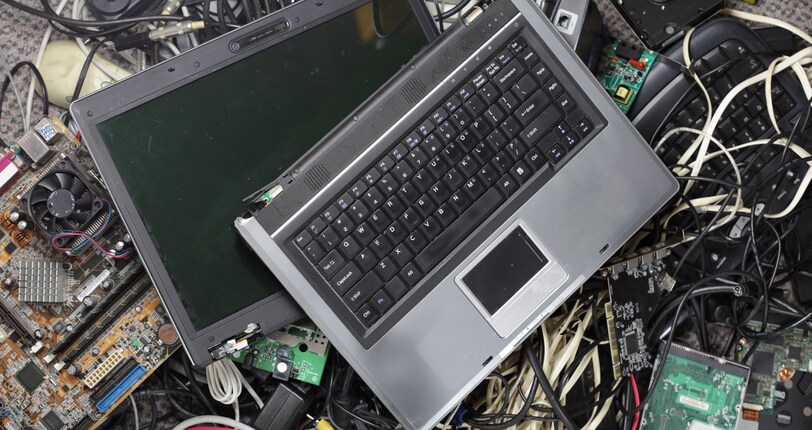 Electronic waste (e-waste) is any consumer electronic product – TVs, computers, phones, home entertainment systems, and household appliances – that is discarded and becomes part of the waste stream. When these devices are left in landfills, they leach out hazardous materials, such as lead, mercury, and cadmium, into the surrounding land, water, and air. Scrap recyclers handling these materials  know what they'll find in products that are still intact, but if the devices are shredded, they pose a threat to the scrap yard workers as well as the environment. Scrap metal recyclers have discovered that handheld x-ray fluorescence (XRF) analyzers are the best way to positively identify numerous alloys, rapidly analyze their chemical composition at material transfer points, and guarantee the quality of their product to their customers.
Another e-waste issue is the toxic chemicals that are used to separate the metals from the electronic devices. There are several emerging approaches to processing metals without using toxic solvents and reagents.  According to an article on Sciencedaily.com, research chemists from McGill University and Western University are developing a method that uses organic molecules instead of chlorine and hydrochloric acid to help purify germanium, a metal used widely in electronic devices. The team conducted laboratory experiments demonstrating that the same technique can be used with other metals, including zinc, copper, manganese, and cobalt. The research is important for the "green chemistry" movement, which seeks to replace toxic reagents used in conventional industrial manufacturing with more environmentally friendly alternatives. The findings were published in Science Advances.
Another article on Phys.org describes a method to separate rare earths using bacteria filters and solutions with pH no lower than hydrochloric acid, as opposed to current separation methods that involve hundreds of steps and many hazardous chemicals. Bacteria filters have long been used to bioabsorb toxic elements from wastewater or to filter metals from mine drainage systems; recent studies show that some rare earths also can bioabsorb. Researchers from the Harvard John A. Paulson School of Engineering and Applied Sciences (SEAS) immobilized a bacteria from marine algae on an assay filter and passed a solution of mixed rare earths through it. The bacteria bioabsorbed all the elements as they passed. The method was described in Environmental Science and Technology Letters.
Other rare earth recycling technologies under development include the following:
A team of researchers at Worcester Polytechnic Institute are working on a method based on aqueous-based technology for recycling neodymium, dysprosium and praseodymium from the drive units and motors of discarded electric and hybrid cars, as reported in Agmetalminer.com.
The Oak Ridge National Laboratory web site reported that research partners from the U.S. Department of Energy's Critical Materials Institute (CMI)  and U.S. Rare Earths, Inc., are developing a technology to simplify the process of recycling critical materials from electronic waste by using a combination of hollow fiber membranes, organic solvents, and neutral extractants to selectively recover rare-earth elements such as neodymium, dysprosium, and praseodymium.
Apple Inc. has developed a recycling method to recover REEs and other metals using a robotic system called Liam to recover valuable materials from used iPhones, according to Business Insider.