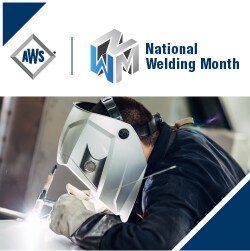 The American Welding Society believes that April should be about taking the time to recognize and reflect on the impact welding has on our daily life, and thus has declared this month to be National Welding Month.
The AWS website notes why it is important to have such a day:  "Every day in thousands of shipyards, automotive assembly plants and construction sites, skilled welding professionals are working to build the structures and products on which the American economy depends. These professionals are behind the scenes welding the very backbone of industry and your world. The month of April is a chance to spotlight the welding industry's past, present and future through education, mentorship and recognition."
We applaud those individuals and the technologies that not only help build our economy, but also keep us safe.  Welding is the joining of two or more materials through heat or heat and pressure, forming a bond between two pieces of metal or plastic.  If that bond breaks or if the wrong welding material is used, a catastrophe can happen: airplanes could fall apart in mid-air, cars could crash, and oil and gas pipes could burst and cause explosions.
Before National Welding Month comes to a close, here' are four previously published welding-related articles and one video:
We join AWS in its celebration of National Welding Month.