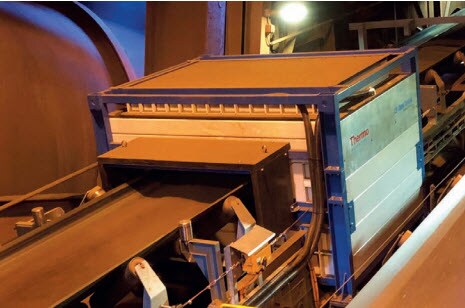 Sintering is an important step in steel production. It involves fusing together raw materials, such as iron ore, coke and limestone, at a high temperature and then converting the fused mass into steel. There are approximately 150 sinter plants around the globe.
Having a more consistent sinter product and ensuring its quality is crucial to steelmaking, so steel companies analyze the sintering process to make sure it is operating efficiently. Sinter analysis has traditionally been a lengthy, laboratory-based process. However, there are steel producers, including Hüttenwerke Krupp Mannesmann GmbH (HKM), a major steel company in Duisburg, Germany, that utilize inline instrumentation as a more efficient and cost-effective method for validating the composition and quality of sinter.
Three years ago, HKM installed an online elemental analyzer that uses prompt gamma neutron activation analysis (PGNAA), which bombards materials with neutrons to determine elemental composition. Prompt gamma neutron activation analysis (PGNAA) is a non-contact, non-destructive analytical technique used in material analysis, based on a subatomic reaction between a low energy neutron and the nucleus of an atom. (If you want to know more about the technology, visit our PGNAA and PFTNA Technology page.)
You can see how this technology works by taking a look at this short animated video, showing how bulk materials, including sinter, get blended and analyzed during online elemental analysis. The animation will take you through the process of sinter feed analysis and blending (raw mix feed, additives, mixing drum, ignition hood, sinter strand), and then elemental and basicity analysis, bulk material chemical analysis, input to process control system, and additive control to improve sinter chemistry and quality and decrease return fines.
In the German steelmaker case, the PGNAA analyzer controls the raw material of the sinter process to ensure blast furnace optimization. The steel company operators view chemistry information each minute on a real time basis. This allows them to make quicker, more intelligent decisions to control the basicity of the sinter, leading to a more efficient plant, lower material handling costs because of decreased return fines, a reduced load on the laboratory, and a net reduction in cost per ton of sinter production.
The basicity of sinter feed material is an important parameter in the efficient operation of the sintering and iron making process. Basicity is a calculated chemical parameter composed of the ratio of two or more elements that are known to affect the alkalinity of the material. Stabilization of the basicity of the sinter product delivers benefits not only to the sinter operations but to the downstream iron making process.
In a typical sintering operation the control of the sinter feed chemistry is based on composite samples of the final sinter product. In addition to errors normally associated with sampling and analytical lab errors there is a lag of many hours between receipt of composite sample assays and current sinter feed chemistry. The sinter operation may also lack sampling equipment on the sinter feed conveyor. Sinter product composite samples are typically obtained by incremental sampling. If the sampling frequency is too long, short term variability in sinter composition will be missed. Composite samples tend to smooth out and hide true process variability so are not on a short enough time scale to achieve optimum sinter feed chemistry control. Consequently process upsets and missed chemistry targets in the sinter product will unknowingly be passed along to the blast furnace.
The German steel producer has managed to avoid many of these pitfalls by installing an online elemental analyzer that uses prompt gamma neutron activation analysis (PGNAA) to get real-time chemical analysis data and adjusting materials as needed.
Additional Resources: