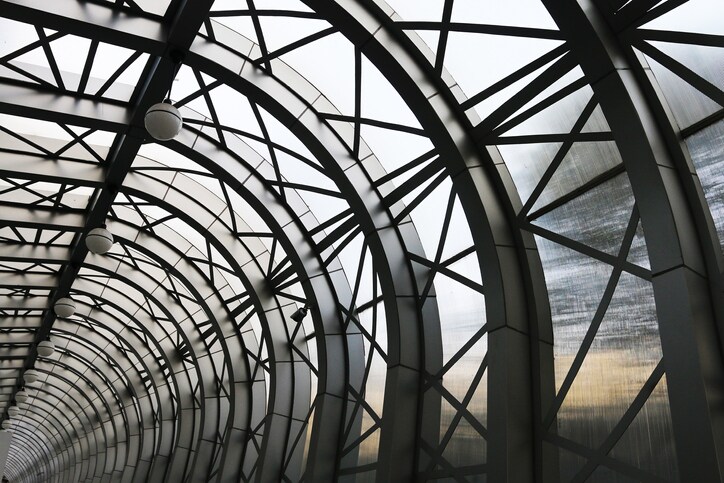 Thickness, width, hardness, and strength are among the key variables defined in a simple product code for steel. There are both standards and customer requirements that must be met to help ensure strength and flexibility of the product – and ultimately the safety of the public.  In addition, steel manufacturers are also trying to produce quality steel products while maintaining output and efficiency.
That's where metal gauges come into play.  Non-contact thickness gauges for hot- and cold-rolling mills that provide precise, real-time measurements during high-speed production of steel plate and sheet help foundries meet the tightest tolerances while maximizing raw material use.  Here are three types of metal thickness and coating weight gauges that are used in steel manufacturing:
Simultaneous Profile Gauges help produce thinner, stronger steels.  Hot strip mills need reliable, repeatable process control data to identify operating issues, ensure product uniformity and increase output. These instruments can simultaneously measure centerline and transverse thickness, temperature, profile, width, edge drop and shape of a steel strip at the exit of a hot rolling mill. This helps improve operating practices with this wealth of process control data, thereby increasing mill throughput and yield.

Off-gauge and off-tolerance product results in the downgrading or even scrapping of coils. High-speed, accurate dimensional measurements allow for in-bar correction of off-gauge product, resulting in raw materials savings and mill optimization. Production demands require permanent uptime and scheduled outages are limited to just a few days each year. Reliable sensors and built-in redundancy ensure measurement values are there when needed.

Steel producers are challenged to provide high quality, uniform coatings while optimizing their production processes.  Coating weight gauges utilize x-ray fluorescence (XRF) technology to provide accurate and reliable on line measurement of zinc, tin and other metallic coatings. These Hot Coating Weight Gauges ensure coating uniformity and product quality with fast, accurate non-contact coating weight measurement of metal coatings applied to flat sheet galvanized products.  This significantly improves coating weight control by reducing the dead time between the air knives and measurement, resulting in raw material savings and a reduction in scrap.
Whether the end product is more than several inches or less than a millimeter thick, steel producers need accurate metal thickness measurement to provide the highest quality finished products. Accurate thickness measurement of process-line steel ensures the finished products have specific mechanical properties, which is critical to their use. Noncontact Thickness Gauges for Cold Rolling and Process Lines provide reliable, noncontact thickness measurement of flat sheet metal in every type of processing line. Gauges range from isotope and x-ray to laser and other optical based sensors.  The gauges also help improve operations, increase mill throughput and make in-bar profile corrections with real time process control data.
Editor's Note: If you want to get a better understanding of how different technologies are used for secondary steelmaking and gas monitoring – or anywhere throughout the steelmaking process – visit our Improving Steel Manufacturing Processes and Production Methods web pages. You'll find free infographics, videos, application notes, technology primers, white papers, and ebooks about the steelmaking process.
Additional Resources: