As I was watching last month's Masters golf tournament on television, I was reminded of the golf-sized defect rolled into the hot strip at a steel mill I visited (see image below). Although holes-in-one are to be celebrated on the links, holes in hot strip are not a welcome sight.
The steelmaker provides flat sheet steel for the automotive industry so meeting the customer's requirements is crucial to their success, and defective products are not part of those specs. It is suspected that the defect occurred because rolled scale fell out and left a void in the strip.
Mill scale is a flaky substance of iron oxide that can form on the surface of the steel during the hot-rolling process. You can see it on this coil. The darker bits on the side and top are oxidized steel. It mostly cracks and falls off, or is sprayed off,  but it can build up into a lump, and get rolled into the steel itself.  When it later falls out, it leaves behind a hole.

It is not uncommon for this to occur during production, but the key is to make sure defective products are not further processed and shipped to the customer.
The quality of the steel provided could affect the integrity of the final product produced by the customer, resulting in safety concerns. Can you imagine if this defect was not caught and ended in a structural failure?  In addition, if the defective product was not caught and removed from production, it would have moved further to the cold mill and downstream processes – causing wasted time and energy, and incurring opportunity costs on a strip that would eventually need to be scrapped.  All of these concerns could also damage brand reputation.
So how does a steel mill catch a defect rolled into the hot strip before it reaches this nightmarish scenario? By utilizing measurement data, and lots of it.
There are several non-contact measurement technologies on the market – including oscillating gauges and other measurement and control systems, sensors, and gauges – that are designed for measuring the thickness of various materials.  They are usually X-ray based instruments that can profile the entire sheet width and help to identify steel that is not meeting customer requirements.  However, some instruments are not advanced enough to catch these types of defects that I mentioned.  To help ensure these defects are identified, one should utilize high-speed, high resolution simultaneous profile technology, which provides several measurements at the same time.
These simultaneous profile gauges provide high cross-strip measurement resolution and proprietary algorithms to calculate strip flatness, head to tail and strip edge to strip edge.  The high-speed, accurate dimensional measurements allow for in-bar correction of off-gauge product. The ability to fully characterize width, centerline thickness, thickness profile, and temperature profile over 100% of the length of the product, as it exits the finishing mill, offers a wealth of process control and quality assurance data.
By having access to repeatable process control data, production personnel can identify operating issues which should help ensure product uniformity and increase output.  It will also help hot rolling mills to produce thinner, and stronger steels.
Here are some of the key measurements that should be collected and analyzed to help ensure quality products reach the customer: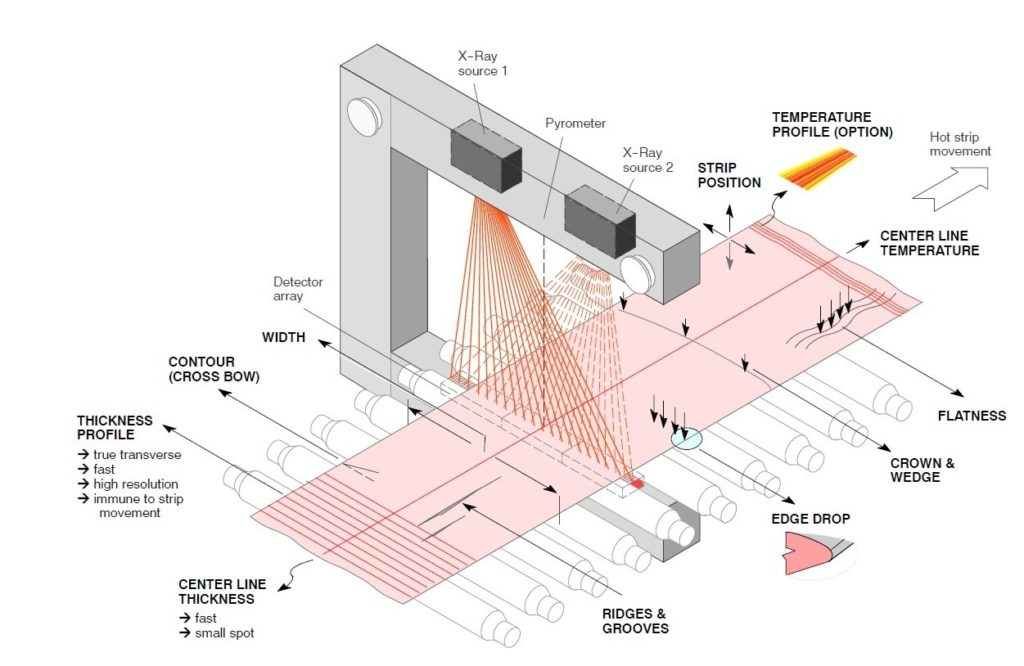 Thickness profile across the full width of the hot sheet
Centerline thickness for automatic gauge control
Temperature profile across the full width using a scanning Pyrometer
True width measurement
Crown and Wedge measurement
Ridge and groove measurement
Edge drop
Strip lift off (position)
Strip shape (Contour or 'cross bow')
Flatness
Linespeed
A high resolution and high speed simultaneous gauge for hot strip with the appropriate arrangement of the sources and detectors would most likely "see" the defect and alert production personnel. All this information could help to significantly increase mill throughput and yield, and significantly impact the bottom line of the steel production facility.
Luckily the facility I was visiting had the right technology in place and discovered the defect in time to segregate the strip and stop further processing of it.  There may not have been a green jacket involved, but the simultaneous profile gauge technology turned out to be the champion of the mill.