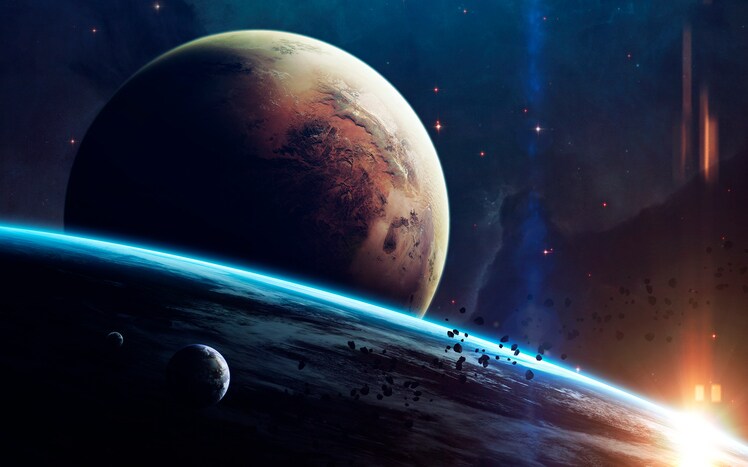 Is it possible to identify metal from outer space? Scientists say yes.
A recent article on Livescience.com interviewed several scientists who said metal alloys from space would be relatively easy to identify. The article was prompted by a New York Times piece about the Advanced Aerospace Threat Identification Program, a program for investigating UFOs funded by the U.S. Department of Defense between 2007 and 2012, that says that metal alloys and other materials recovered from unidentified aerial phenomena are being stored in Las Vegas. The Live Science article also discusses an MSNBC interview with one of the authors of the Times report who indicated that these materials were unidentified.
But chemists and metallurgists who spoke to Live Science said even alien metal can be identified. Here are their comments:
"I don't think it's plausible that there's any alloys that we can't identify," Richard Sachleben, a retired chemist and member of the American Chemical Society's panel of experts, told Live Science.
"There are databases of all known phases [of metal], including alloys," May Nyman, a professor in the Oregon State University Department of Chemistry, told Live Science. Those databases include straightforward techniques for identifying metal alloys.
If an unknown alloy appeared, Nyman said it would be relatively simple to figure out what it was made of. For crystalline alloys — those in which the mixture of atoms forms an ordered structure — researchers use a technique called X-ray diffraction, Nyman said.
"The X-ray's wavelength is about the same size as the distance between the atoms [of crystalline alloys]," Nyman said, "so that means when the X-rays go into a well-ordered material, they diffract [change shape and intensity] … and from that diffraction [pattern] you can get information that tells you the distance between the atoms, what the atoms are, and how well-ordered the atoms are. It tells you all about the arrangement of your atoms."
X-ray diffraction (XRD) is a structural analysis technique used to obtain mineralogical and phase composition depending the on the nature of the materials and the relative concentrations of minerals of interest. XRD is commonly used in geology and mining (earth science) laboratories to analyze the phases or compounds in crystalline materials such as rocks, minerals and oxide materials and products.
XRD instruments used for geological sample analysis range from simple, easy to use bench-top systems for routine metals and metallurgical analysis to more advanced floor-standing, high performance, research grade systems for investigative laboratories. Bench-top XRD models use different X-ray power sources and offer different levels of convenience and performance than the floor models because they can be transported between laboratories or into the field and does not require any special infrastructure.
Watch this video to see a demonstration of a desktop XRD instrument.
Recommended reading:
Analysis of geological minerals using the ARL EQUINOX series X-ray diffractometer
Complimentary XRF and XRD for More Complete Analysis of Geological Minerals
XRD Helps Characterize New Minerals