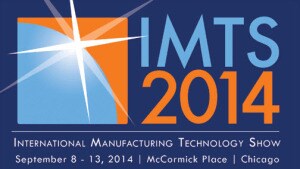 The International Manufacturing Technology Show (IMTS) organizers promise that this year's show will be an epic manufacturing event.  With 1,900 exhibitors and an expected attendance of over 100,000 industrial decision makers from more than 110 countries, it's hard to argue.
The metalworking industry will certainly be thoroughly covered.  According to the IMTS 2014 show website:
Leading manufacturers will display their equipment in several product category pavilions:
Metal Cutting: contains everything from machining centers and assembly automation to flexible manufacturing systems and lathes.
Tooling & Workholding Systems: features jigs, fixtures, cutting tools of all types and related accessories.
Metal Forming & Fabricating/Laser Processes: home to waterjet, plasma-arc and laser systems, welding equipment, heat treating and more.
Other pavilions at IMTS include Abrasive Machining /Sawing/Finishing; Controls & CAD –CAM; EDM; Gear Generation; Industrial Automation North America; Machine Components/ Cleaning/ Environmental and Quality Assurance.
It's such a big show you may want to map out your visit before you get there.  Here's a link to the floor map and show planner.  We'll be in Booth E-5156 in the East Building, Quality Assurance pavilion, demonstrating metal / alloy grade identification with handheld x-ray fluorescence (XRF) technology.  Material verification for alloy quality assurance and alloy quality control (alloy QA/QC) are critical to product safety. The potential for material mix-ups and the need for traceability are a concern at every step in the metal fabrication and manufacturing process. Wrong or out-of-specification metal alloys can lead to premature and potentially catastrophic part failures that can be expensive, damaging to your reputation, and, sometimes, result in loss of life.  Those stakes are too high to rely on supplier documentation.
Metal analyzers can provide alloy chemistry for the most common elements in tens of thousands of alloy grades. Alloy grades can be accurately identified and analyzed, including stainless steels, low alloy steels, tool steels, copper alloys, nickel alloys and exotics, such as zirconium and tantalum alloys.  Some analyzers offer superior light element performance for ultra-low magnesium, aluminum and silicon detection to accurately identify titanium alloys and aluminum alloys.  Bring a metal or alloy sample to the booth, and we will analyze it in seconds, right in front of you, and tell you the elements your sample contains.
If I get a chance to step away from the booth, I'll try to get to the AMT Emerging Technology Center.  The IMTS partners are planning on building a 3D-printed electric car.  The body of the car will be printed on a large-scale additive machine, then assembled and fitted with an electric engine. The reveal of the finished car will be on Saturday morning.  I'm not sure if it will be worthy of a NASCAR race, but it should still be an amazing feat.
If you can't be at the show, you can certainly keep up with the news.  You can:
I hope to see you in Chicago!
Show Details:
IMTS 2014
September 8-13, 2014
Booth E-5156
McCormick Place
2301 S. Lake Shore Drive, Chicago, IL 60616