Editor's Note:  This is Part 1 in a 3-Part Infographic Series on Stainless Steels.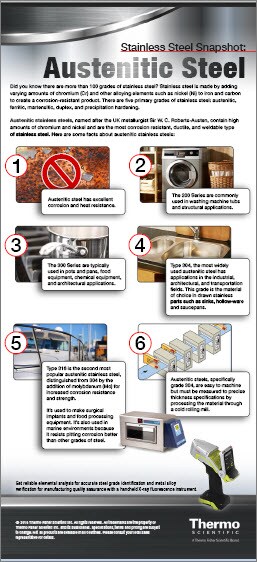 Did you know there are more than 100 grades of stainless steel? Stainless steel is made by adding varying amounts of chromium (Cr) and other alloying elements such as nickel (Ni) to iron and carbon to create a corrosion-resistant product. We will cover three of the five primary grades of stainless steel (austenitic,ferritic, martensitic, duplex, and precipitation hardening) in infographic form. This week we will address Austenitic Steel.
Austenitic stainless steels, named after the UK metallurgist Sir W. C. Roberts-Austen, contain high amounts of chromium and nickel and are the most corrosion resistant, ductile, and weldable type of stainless steel. Take a look at this infographic and get a snapshot of Austenitic Stainless Steels.
Want to know more about Stainless Steel?
Read Is Stainless Steel Really Stainless?
Additional Resources: