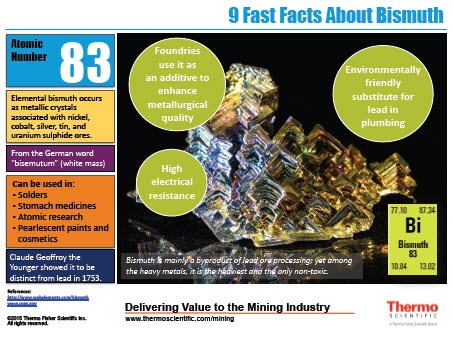 Lead, a highly toxic heavy metal, is known for its detrimental effects on health, and there are mandates to remove it in many places. In fact, according to the U.S. Geological Survey, "The Safe Drinking Water Act Amendment of 1996, which required that all new and repaired fixtures and pipes for potable water supply be lead free after August 1998, opened a wider market for bismuth as a metallurgical additive to lead-free pipe fittings, fixtures, and water meters.
Elemental bismuth occurs as metallic crystals associated with nickel, cobalt, silver, tin, and uranium sulphide ores. Number 83 on the periodic table, it is mainly a byproduct of lead ore processing; yet among the heavy metals, it is the heaviest and the only non-toxic.
As a result, bismuth is becoming an ingredient in many metal alloys and products. In fact, researchers in China developed a low-melting-point bismuth-indium-tin-zinc alloy that allows the liquid alloy to be squeezed through tubes that could be used in the 3D printing of electronic components. The new alloy's low melting point requires little cooling, allowing for faster printing than is currently possible with higher melting point metals currently in use."
Take a look at this Bismuth infographic and get nine fast facts about this increasingly important metal.