Editor's Note:  This is Part 2 in a 3-Part Infographic Series on Stainless Steels.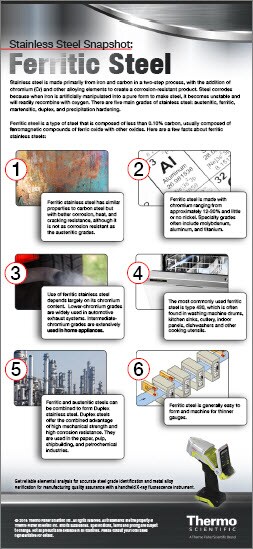 Stainless steel is made primarily from iron and carbon in a two-step process, with the addition of
chromium (Cr) and other alloying elements to create a corrosion-resistant product. Steel corrodes
because when iron is artificially manipulated into a pure form to make steel, it becomes unstable and
will readily recombine with oxygen. There are five main grades of stainless steel: austenitic, ferritic,
martensitic, duplex, and precipitation hardening.
Ferritic steel is a type of steel that is composed of less than 0.10% carbon, usually composed of
ferromagnetic compounds of ferric oxide with other oxides. Take a look at this infographic and discover a few facts about Ferritic Stainless Steels.
Want to know more about Stainless Steel?
Read Is Stainless Steel Really Stainless?
Additional Resources: