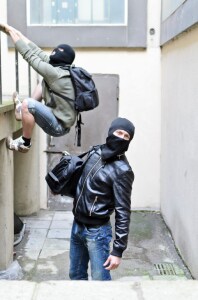 Prior posts have covered the difficulty of identifying the exact chemical composition of scrap metal coming from unknown or global sources. Handheld XRF analyzers can positively identify numerous metal alloy grades and help scrap metal recyclers to guarantee the quality of their product to their customers.
However, product integrity isn't the only reason you need to verify the source of the scrap that comes into your operation. In this post, we'll discuss another scrap metal issue that is quickly gaining momentum — theft.
Metal theft has skyrocketed in recent years. You may have heard about this phenomenon in the news, with recent examples including power outages, or even explosions, due to thieves stealing copper wire from electrical infrastructure or even power lines, and public transit delays resulting from the theft of metal railroad tracks. While thieves once targeted foreclosed houses for wiring and piping, homeowners now report thefts of air conditioners right out of their windows. Beer kegs, manhole covers, and statues also are stolen frequently.
Several factors account for this surprising—and often dangerous—activity:
Metals such as copper and aluminum are in high demand, both in original state and as scrap;
Unsuspecting, careless or unscrupulous dealers fail to thoroughly vet the sources of the metal they buy;
Metal wire can be stolen fairly easily and is difficult to trace.
Both state and federal legislation has been proposed in response to this growing crisis, much of it focusing on regulating scrap metal dealers' business practices, such as requiring dealers to keep detailed records on sellers and make this information available to law enforcement.
The Metal Theft Prevention Act of 2013 (S. 394) was one such attempt at addressing this problem. S. 394 would have established new federal crimes relating to metal theft from critical infrastructure (e.g., railroads and electric companies). It would have also imposed onerous intergovernmental and private-sector mandates requiring buyers of certain scrap metals (primarily recycling agents) to collect and maintain information about each purchase, set limits on how much buyers could pay any one seller for scrap metals, and required scrap metal sellers to prove that they are authorized to do so.
S. 394 didn't pass, but the majority of states have similar laws and some are contemplating adding even more. In November 2013, the Michigan House voted for more restrictions on the sale of stolen copper and other scrap metals. The bill, which must still pass the Senate, includes provisions to make dealers keep better records of transactions so police can review them, and to delay payments for frequently stolen equipment like catalytic converters and air conditioners. Idaho, Indiana, Nevada, Oregon, South Carolina, and other states have enacted similar laws requiring scrap dealers to keep detailed purchasing records.
New Jersey requires scrap metal dealers to verify the identity of individuals delivering or selling scrap metal but recently rejected a bill to impose even tighter restrictions. Similarly in October 2013, a California a bill which would have required a scrap metal recycler to pay for the purchase of scrap metal by a check mailed to the seller was vetoed because several metal theft laws are already in place. Governor Brown stated that while the theft of nonferrous metals has reached epidemic proportions throughout the United States, better enforcement of the existing metal theft laws was needed rather than a new law. The Institute of Scrap Recycling Industries (ISRI) praised the decision, and instead favors strategies to prevent theft and aid law enforcement. Read the ISRI guidelines.
Proposals such as S.394 have met with some controversy in the scrap metal community. Although most recyclers favor measures to mitigate purchasing stolen material, the kind of regulations proposed in S. 394 could adversely impact small and medium sized facilities that cannot afford the infrastructure that would be required to implement all of the regulations, and limits on the amount that can be purchased from one entity or type of material could dramatically reduce their incomes.  Conversely, the larger facilities depend on the smaller ones as important sources of inventory, thus the entire supply chain could be affected.
As the theft problem escalates, savvy scrap metal dealers can protect themselves by taking proactive steps to thoroughly document all of their transactions and identify everyone from whom they purchase metal.
What are your thoughts?  Let us know if this issue has affected you and what you think the most effective solutions are.