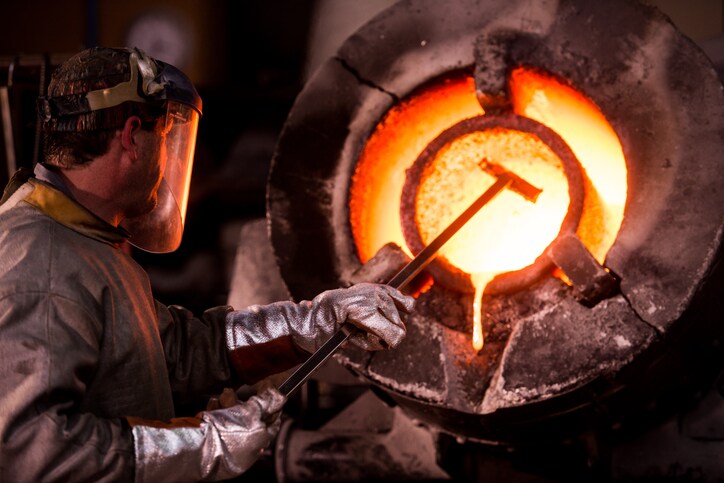 Steel and other metals derive properties such as strength, ductility, and corrosion resistance from alloying elements. Adding alloying agents is a complicated process; the right ingredients must be added in the right percentages in order for the final product to perform as expected. Other issues that can influence the integrity of steel and other metals include embrittlement, tramp elements, and in the hydrocarbon processing industry, impurities in the steel or in the oil itself. Some of these issues may be detected with portable XRF analyzers.
Hydrogen embrittlement
Phys.org reports on the problem of hydrogen alloy embrittlement, which has led to catastrophic failures in major engineering and building projects. Professor Roger Wepf, Director of the University of Queensland Centre for Microscopy and Microanalysis is leading an international research project to develop next-generation steel and metal alloys resistant to hydrogen embrittlement.
"The current generation of these metals can suffer hydrogen embrittlement, where they become brittle and fracture due to the accidental introduction of hydrogen during manufacture and processing," he said. "A major example of alloy embrittlement occurred in 2013, when bolts in the eastern span of the San Francisco-Oakland bridge failed tests during construction. Our research collaboration has, for the first time, localized and visualized hydrogen in steels and alloys. This is essential for the development of new alloys with greater endurance." The research is published in Science.
Contaminants and impurities
Accidents within the refining industry can be caused by corrosion of piping and equipment made from the wrong metal alloy, or a material that does not meet specifications. Pipe corrosion can also be caused by impurities in the oil. The 6 Corrosive Components That Can Be Found in Crude Oil is an article on Corrosionpedia that describes impurities often found in crude oil that could cause corrosion in pipelines, vessels and refinery equipment. (Read article on how one customer used PMI testing of 347 Stainless Steel to show how pipes were elementally different "as delivered" vs "as welded.")
Tramp elements
Tramp elements that typically show up in lower concentrations, or trace amounts, are generally defined as those that are not deliberately added and that cannot be completely removed by typical metallurgical processes. Manufacturers must be aware of tramp elements in their incoming raw materials because even a minute presence of some incorrect metals in an alloy would change the composition and could result in undesired qualities, like surface defects or brittleness in finished products. According to a National Physical Laboratory report, "Copper and copper-nickel alloys tend to become less noble with increasing flow rate and to corrode more…." That would be quite a problem for manufacturers in the automotive, aerospace, marine and medical device industries who need to ensure their finished products don't corrode easily.
Today's best practices include testing 100% of critical materials as part of a quality assurance/quality control (QA/QC) program. Many manufacturers, especially ISO 9000 facilities, use portable XRF analyzers throughout the facilities for quality checks when the metal comes in, after the metals are sorted, and for final analysis before the finished product leaves the facility. In fact, advances in handheld XRF technology have expanded to the point that today's analyzers are capable of distinguishing alloy grades that are nearly identical in composition to one another.