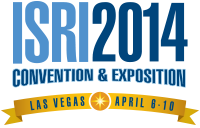 ISRI, the Institute of Scrap Recycling Industries, Inc., is planning to put on the biggest convention and exposition ever. With over 300 exhibitors, it touts itself as the world's largest scrap recycling industry convention and tradeshow.  And it must be… ISRI managed to secure world-class speakers for the event.  Co-Founder of Apple Computer, Steve Wozniak, is the featured guest speaker at the opening session, and Former Secretary of State Hillary Rodham Clinton is slated as the Keynote Speaker at the closing general session.
Just as important to me, however, is seeing and meeting customers' families when they bring them into the show and take them around to the various vendors.  And whether you are little kid, or a big kid, seeing the latest material handling technology is always impressive.  (Before bringing your children into the hall, however, please note ISRI's policy that "Children not registered for the convention will be given the opportunity to visit the exhibit hall only after 2:00 p.m. on each day. Children should always be accompanied by a registered adult parent or guardian. Strollers are not permitted in the exhibit areas.)
I'll be networking with the attendees, meeting customers, and demonstrating the latest instruments used for radiation measurement and security, including detection, dose rate and contamination measurements.  Many people don't think about radiation when they are talking about scrap metal, but it is a great concern to the industry.  The U.S. Environmental Protection Agency reports that contaminated uncontrolled material from industrial processes can enter the scrap stream.  Naturally occurring radioactive material dug from soil and water and then deposited in pipes or equipment used in oil and gas drilling can get into the stream.  Even material improperly released from the nuclear industry, or discrete radioactive sources that were abandoned or lost, can add to the problem.
According to the ISRI organization, "The recycling industry annually transforms 150 million metric tons of obsolete materials from consumers, businesses, and manufacturers into useful raw materials."  The steel making industry relies on radiation-free scrap.  Can you imagine if radioactively contaminated scrap entered the metal supply; it could expose steel workers and ultimately threaten the health of all consumers and the environment.  The EPA is working with worldwide partners to ensure there is a consistent standard applied for all materials released internationally as well as brought into the United States.
Because of these concerns, scrap metal recyclers are using the latest technology to ensure they offer their customers quality safe scrap.  While some workers at the yard sort metals with handheld x-ray fluorescent analyzers, making sure they are accurately identifying alloy grades, others are using handheld instruments for radiation detection, gamma dose rate measurements and area monitoring.  So you'll see both kinds of instruments at our booth.
ISRI provides education, advocacy, and compliance training while promoting public awareness of the role recycling plays in the U.S. economy, global trade, the environment and sustainable development. That fact fits perfectly with the mission of Thermo Fisher Scientific… to enable our customers to make the world healthier, cleaner and safer.  ISRI is a great opportunity to see how important scrap metal recycling is to the environment.
Here's the ISRI schedule at a glance.  Make sure you save some time to visit us at Booth 211.
And if you have some extra time to explore the area, take a tour of the Hoover Dam; or rent a mountain bike, get driven out towards Valley of Fire State Park (where you will see petrified wood and 3,000-year old Indian petroglyphs) and bike back down hill to Las Vegas. It's a great ride.  And if you're hungry after that, take in the nostalgia of Battista's Hole in the Wall restaurant and enjoy the authentic Italian food and the old time Las Vegas memorabilia.
Hope to see you there!   And if you can't be there, follow the #ISRI2014 twitter stream.
Event Details:
ISRI 2014
Booth 211
April 8-10, 2014
Mandalay Bay Resort & Casino
Las Vegas, NV, USA