Editor's Note: Mark Lessard is a Business Development Manager for Portable Analytical Instruments at Thermo Fisher Scientific. Watch this YouTube video of Mark discussing the below, and showing the technology in action.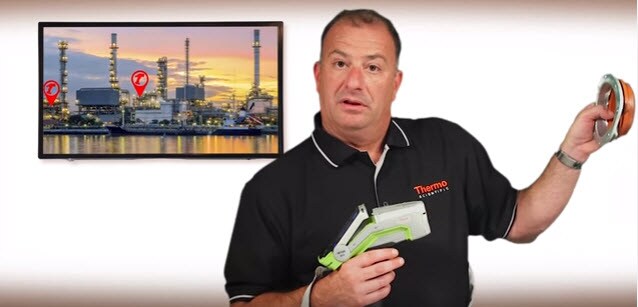 I have been involved in all aspects of XRF (X-ray fluorescence) technology over the past 30 years and I would never have thought it was possible to achieve the performance in handheld XRF analyzers that is available today.
XRF is a non-destructive analytical technique used to determine the elemental composition of materials. Handheld XRF analyzers have been used in metal alloy material verification for many years in manufacturing quality assurance and quality control (QA/QC) programs to ensure product integrity. Over the years, the transportation, aerospace, and medical device industries especially have welcomed tools that provide instant positive alloy grade identification, the ability to recover lost trace-ability, are non-destructive, and can help productivity – from incoming raw material to finished products. Incorrect or out-of-specification metal alloys can affect the safety of products or components, even possibly leading to premature and potentially catastrophic part failures that can be expensive, damaging to your reputation, and, sometimes, result in loss of life. More recently, the petrochemical and power gen industry have relied on portable XRF analyzers to ensure the integrity of their pipelines and critical metal assets.
There have been many updates and upgrades to the technology over the past decade that have improved the performance of these instruments, but I would say it wasn't until this year that performance has reached the point where you can now have a laboratory grade, large EDXRF spectrometer in the palm of your hand.
Technology has risen to the point that some portable xrf analyzers can quantify 30 elements simultaneously, with most analysis performed in two seconds. Built-in micro- and macro-cameras enable you to pinpoint a specific location on the sample to be analyzed and then capture the sample image. Performance is comparable to large, expensive, lab instruments, but handhelds are even better because you can analyze materials almost anywhere and get immediate accurate results.
XRF analyzer manufacturers recognize the fact that hands-on production workers, not scientists, are the ones analyzing metals on the shop floor or pipeline welds out in the field. Because of that insight, user interfaces are now more intuitive and easy to operate. And with Bluetooth and GPS incorporated into the analyzer, it doesn't matter where you are located. Running out of 'juice' while out in the field? Don't worry; analyzers now come with hot swappable batteries — batteries that can be charged via USB trickle charge or even a 12v DC source. Hot-Swappable battery capability means you can safely remove one battery and insert another without shutting down.
You may have read about how today's robotics can be self-monitoring; today's handheld xrf analyzers also can perform a lot of checks on itself. Confirming the instrument's calibration is now as easy as pressing a screen button. Gone are the days of needing a separate sample to perform the check. Also, trickle charging capability saves your battery from being overcharged and damaged in the process.
You would think that adding all these features would make the instrument bigger and heavier, but it turns out the opposite is true. The latest generation of analyzers is smaller and lighter than their older siblings. Because of that, performance is better. As I explain in this video the smaller device enables tighter geometry, meaning the distance between the x-ray tube to the sample to the detector has been significantly shortened. The closer you can get those components to the sample, the better performance can be achieved. This is especially useful to workers who found checking weld joints to be challenging because the older analyzers were too big to fit into many of the tight spaces involved in intricate or complex metal work. Even those non-destructive testing inspectors in petrochemical settings who must contend with sample ports throughout the plant will find they can now reach through the port and do the analysis on the piece of pipe that resides on the back side.
The improved performance and reduced size of the analyzers certainly help the company to be more productive; however, the health of the worker is also improved. For quality control personnel or scrap yard workers who are analyzing and sorting hundreds of pieces of metal every day, operator fatigue can be an issue. A pound or two difference between the legacy analyzers and new analyzers can certainly be felt by the end of an eight-hour shift.
Yes, it seems we have finally reached a point in xrf technology that bridges the gap from a simple metals analyzer to a full blown versatile and powerful spectrometer. And it has blown me away.
Watch Mark's YouTube video