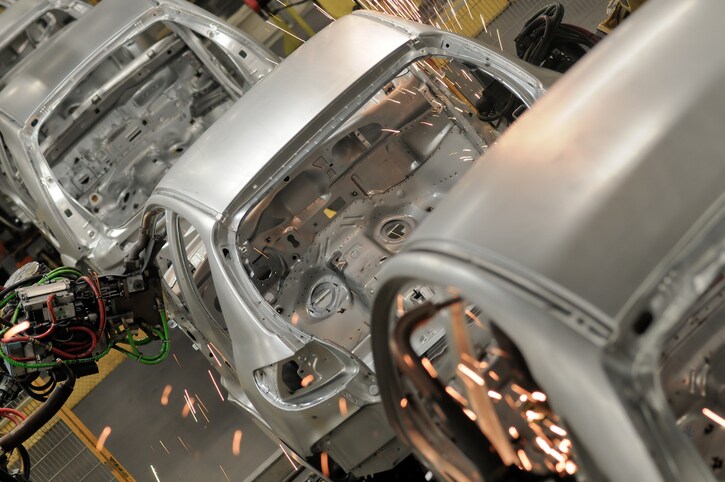 The National Highway Traffic Safety Administration CAFE (Corporate Average Fuel Economy) requirements are increasing regulatory pressures to build more fuel-efficient cars. In an effort to meet these requirements, the automotive industry is investigating a variety of new lightweight materials to help increase fuel economy, from aluminum, magnesium, and titanium alloys to carbon or glass-fiber composites and thermoplastics.
Car manufacturers frequently use aluminum instead of steel for body panels to reduce the weight of the vehicle. To reduce the weight of the component even further, aluminum is being alloyed with other elements, including magnesium and manganese, to create moderate-to-high strength, non-heat-treatable alloys that are readily weldable and corrosion-resistant.
A recent article on phys.org describes another approach to creating light weight automotive metal. Researchers at NIMS and Nagaoka University of Technology developed a magnesium alloy that is lighter than steels and aluminum alloys and is expected to be effective for weight reduction and better fuel efficiency. The alloy can be used to make a low cost, light weight sheet metal for automotive applications that has excellent formability compared to the aluminum sheet metal currently used in the body panels of some automobiles. Magnesium alloys hadn't been used in automotive bodies because of their poor formability and low strength, but the research team developed the new age-hardenable magnesium alloy by adding very small amounts of zinc, manganese, aluminum and calcium. The alloy has excellent room temperature formability comparable to that of medium strength aluminum alloys that are used in some automobile bodies, and it's also stronger and less expensive to process. The study was conducted as a part of the JST Advanced Low Carbon Technology Research and Development Program (ALCA). The study was published in Scripta Materialia on June 16, 2017.
Another approach to reducing automobile weight is sintering, the practice of using heat and pressure to fuse together different metals and alloys. If done correctly, the composite materials can become stronger, more lightweight, last longer, or even help mitigate corrosion. (Read the blog post, Where are Automotive Manufacturing Materials Heading?)
Many factors have to be scrutinized when trying to make a lightweight material or when sintering. With each new material innovation comes potentially greater fuel efficiency, but also a new list of analytical challenges. With the multitude of alloys being used in the automotive industry, confirmation of chemical composition is critically important.
X-ray fluorescence (XRF) is a proven technology for the elemental analysis of specialty alloys to ensure the correct alloys are combined in the right percentages and the finished material meets precise manufacturing specifications. Portable XRF analyzers are indispensible tools for performing PMI of incoming raw materials, work in progress, and final quality assurance of finished parts because they can determine the elemental composition of a sample within seconds.
Recommended reading: The Lighter Side of the Automotive Industry.