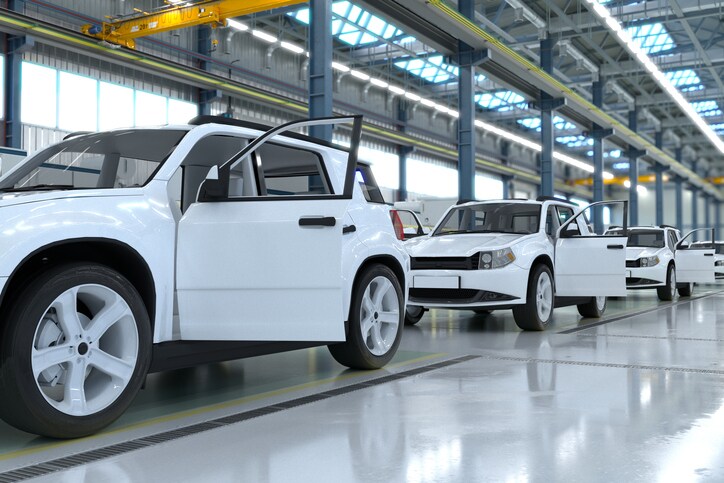 Azo Materials reports that models of magnesium alloys have been developed by EPFL researchers to understand how to make the metal extra pliable. The goal is to discover new, more malleable alloys for lightweight, more fuel efficient car manufacturing.
Aerospace and automotive manufacturers are interested in magnesium because it is an abundant metal that is four times lighter than steel. However, pure magnesium has poor ductility and is difficult to form. Researchers at EPFL's Laboratory for Multiscale Mechanics Modeling produced a model for predicting how the metal acts when mixed with varied elements to find out which type of alloy offers the deformation capacity required for industrial applications.
The article explains the modeling process as follows:
The interactions between magnesium atoms and the atoms of elements added to produce the alloys, were studied by the EPFL researchers. They discovered that specific atoms activate a process that "cancels out" the mechanism that causes magnesium to become hard to shape. The low ductility of magnesium is because of its low number of moveable dislocations, which are considered to be the linear defects that allow metals to flow plastically and that make it less likely to break when it is deformed. The researchers found that the addition of specific elements considerably increases the number of moveable dislocations, thus enhancing the metal's deformation capacity. They then spent a number of months employing EPFL's High-Performance Computing system in order to calculate, through quantum mechanics, the causes combinations of atoms to result in the highest ductility.
For now, the alloys still remain in the modeling stage. The next step will deal with fabrication in the lab in order to see if they have the correct properties for industrial use and also to study if they can be manufactured on a bigger scale. The research was featured in Science.
In a previous blog post, we discussed an article on phys.org that described another approach to using magnesium to create lightweight automotive metal. Researchers at NIMS and Nagaoka University of Technology developed a magnesium alloy that is lighter than steel and aluminum alloys. The alloy can be used to make a low cost, light weight sheet metal for automotive applications that has excellent formability compared to the aluminum sheet metal currently used in the body panels of some automobiles. The research team developed the new age-hardenable magnesium alloy by adding very small amounts of zinc, manganese, aluminum and calcium. The alloy has excellent room temperature formability comparable to that of medium strength aluminum alloys that are used in some automobile bodies, and it's also stronger and less expensive to process. The study was published in Scripta Materialia.
Many factors have to be scrutinized when trying to make a lightweight alloy. With each new material innovation comes potentially greater fuel efficiency, but also a new list of analytical challenges. With the multitude of alloys being used in the automotive industry, confirmation of chemical composition is critically important.
X-ray fluorescence (XRF) is a proven technology for the elemental analysis of specialty alloys to ensure the correct alloys are combined in the right percentages and the finished material meets precise manufacturing specifications. Portable XRF analyzers are indispensable tools for performing PMI of incoming raw materials, work in progress, and final quality assurance of finished parts because they can determine the elemental composition of a sample within seconds.