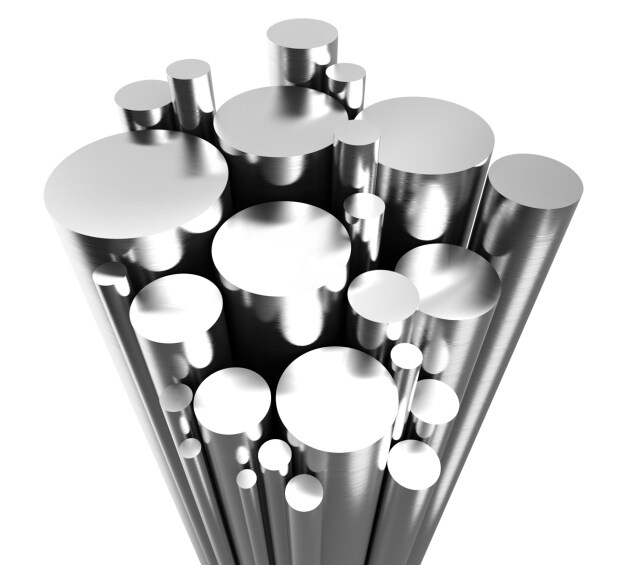 Conventional steelmaking processes are ideally suited to the production of standard grade mild steels. However, to meet increasing demand for high quality specialty steels a further stage of processing, called secondary steelmaking, is required. A range of different processes is available, including stirring with inert gases such as argon, adding alloys, vacuum degassing processes such as Vacuum Oxygen Decarburization (VOD) and Ruhrstahl Heraeus (RH), and powder injection. Blowing oxygen into molten steel under vacuum conditions saves time and money over conventional steelmaking methods. It also produces high-chrome steels with very low levels of residual carbon, hydrogen and nitrogen, yielding a wide range of stainless, heat- and corrosion- resistant steels.
Stainless steel contains percentage levels of chromium. As chromium is easily oxidized it is important to decarburize stainless steel to a low carbon level while avoiding loss of chromium. This is achieved by decreasing the partial pressure of carbon monoxide to ensure preferential removal of carbon over chromium from the melt. In practice, this is done in the Argon Oxygen Decarburization (AOD) furnace by dilution using argon or in the VOD or RH processes by reducing the pressure over the molten metal.
Dynamic Monitoring of Furnace Exhaust Gas
The various specialty processes mentioned above are able to achieve ultra-low levels of residual carbon while retaining desired levels of other alloy materials. These processes require fast, continuous analysis of the furnace exhaust gas to achieve high-quality steel. Without accurate information on the composition of the gas leaving the furnace, any variations in the decarburization process are only detected after the event, resulting in out-of-specification steel. Analyzing the composition of the furnace exhaust gas provides vital process information, such as:
CO & CO2: Decarburisation rate, residual carbon content, slag development
O2: Lance position, slopping prediction, slag development
N2: Residual carbon, phosphorous and manganese content, slopping prediction
H2: Early detection of cooling leaks, water content in flux additions.
Advantages of Mass Spectrometry
Traditional Non-Dispersive Infra-Red (NDIR) analyzers are used on many conventional steelmaking processes to measure CO and CO2, but they can only sample at atmospheric pressure. In vacuum steelmaking the process pressure changes dramatically, typically from atmospheric pressure down to less than 1 mbar, over the 20-30 minutes of the melt. So NDIR analyzers have to sample some distance downstream from the process. Analytical data is updated several minutes after the gas leaves the melt and the control system is forced to operate on historic rather than real-time data.
Paramagnetic analyzers can be used to measure O2, while thermal conductivity analyzers can be used to measure H2. These analyzers also suffer from slow response, while the need to operate three different types of analyzers adds to the plant maintenance burden. Moreover, the three analyzers cannot analyze inert gases, so N2 is calculated by difference, a result that suffers from the sum of the errors of the three analytical techniques.
Mass spectrometry (MS) operates at high vacuum so it is ideal for monitoring vacuum processes. It provides fast analysis in seconds rather than minutes, ensuring the plant control model is frequently updated with accurate compositional data that can clearly be seen. The MS monitors all components in the exhaust gas – N2, O2, CO, CO2, H2, Ar, even Helium tracer gas – to give a complete gas profile of the melt.
Read the application note Improving low carbon steel production in specialty steel processes with the Thermo Scientific Prima PRO Mass Spectrometer for data and analysis demonstrating the precision and stability of this instrument for vacuum degassing process monitoring and control.
Additional Resources: