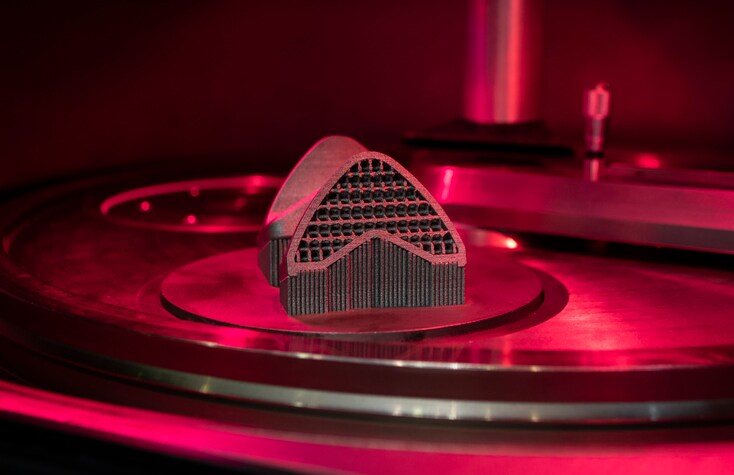 Our sister blog, Advancing Materials, recently published an article that I thought would be of interest to our Analyzing Metals readers. Metal Additive Manufacturing: From Promise to Reality discusses the presentation by Dr. Dan Thoma, the Director of the University of Wisconsin-Madison's Grainger Institute for Engineering,about the strengths and opportunities within the Metal Additive Manufacturing nascent industry.
During the presentation, three different metal AM techniques are described: Selective Laser Sintering (also known as Powder Bed), Laser power fusions LENS, and Electron beam Additive Manufacturing (EBAM, wire). These three methods are schematically represented in his presentation, and during the webinar, Dr. Thoma shows videos of the techniques in action. You can watch the webinar now.
We recently wrote about this subject in our article, 3D Printing with Metal Alloy Powder May Make Ultra-strong Metal Parts. We noted that metal powder formulations include some grades of stainless steel, low alloy steels, and nickel and cobalt alloys, some of which have applications in the aerospace and automotive industries.
There are also metal powders of titanium, which is valued for its distinctive properties and wide range of uses, including the medical industry. In New Applications for Titanium with 3D Printing, we discussed how Titanium alloys are valued in these industries for their high tensile strength, light weight, corrosion resistance, and ability to withstand extreme temperatures. Titanium is an especially important material in the surgical implant industry because the metal is not only strong and durable but also nontoxic and biocompatible.

3D printing with metal still has limitations. And like traditional metal manufacturing, the success of 3D printing with metal powders depends on having the right alloy for the application. For example, titanium is added to steel alloys to reduce grain size and as a deoxidizer, and in stainless steel to reduce carbon content. Titanium is often alloyed with aluminum to refine grain size, with copper for hardening, and with precise amounts of platinum, palladium, or ruthenium to make pipes that can withstand harsh chemical processing environments. The quality and chemical composition of all of the metals that go into making these blends must be verified using elemental analysis systems.
Like traditional metal manufacturing, the success of 3D printing with metal powders depends on knowing that the chemical composition of the metal being used is right for the application. Metal powders can undergo chemical composition analysis to determine the amount of metallic or non-metallic impurities (elemental form, or in dissolved form as solid solution or as compounds). Wavelength-dispersive x-ray fluorescence (WDXRF) and energy-dispersive x-ray fluorescence (EDXRF) are elemental analysis technologies that easily and positively characterize any metal powder. Laboratory-based XRF systems can evaluate all kinds of materials and sample types for qualitative and quantitative analysis for process and quality control in a variety of metallurgical applications.