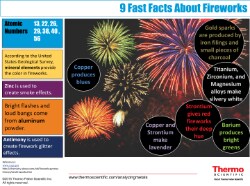 The earth's crust contains vast quantities of metals.  And the skies above will be filled with vast quantities of metals for July 4th celebrations.
Yes, those spectacular fireworks you see bursting in air contain metallic compounds to give fireworks color and sound.
Aluminum, which is used extensively in aircraft and automobiles to make them lighter, is used in fireworks to produce bright flashes and loud bangs. Aluminum is a non-ferrous metal and the second most plentiful metallic element on earth. It is lightweight, easily formed, and highly conductive. Aluminum isn't as strong as steel but it's lighter and less expensive.
Copper, which has been key in the modern age, is being used extensively in energy-efficient products. Copper, along with other nonferrous metals including aluminum, nickel, and tin, doesn't lose any of its chemical or physical properties during the recycling process, which means it can be recycled indefinitely. It's very alloy-friendly as well.  And it's also the element that makes the blue color in fireworks.
From the Greek phrase "a metal not found alone," antimony is a silvery, lustrous grey semi-metallic toxic element.  Yet it is used in tracer bullets, cable sheathing, batteries, and semi-conductor technology. It's also used to create firework glitter effects.
These are just a few of the metals you'll see in bright flashes in the sky.  Take a look at this infographic to find out 9 Fast Facts About Fireworks and the metals used to make them look spectacular!