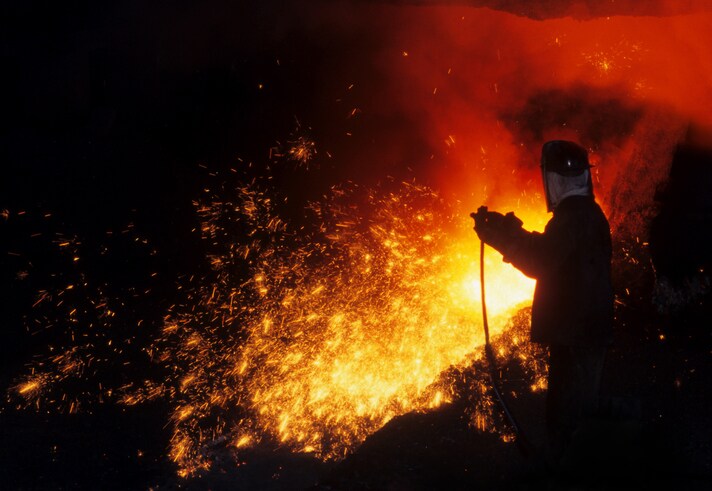 According to the Health and Safety Executive web site, health risks from working in the metal foundries industry include exposure to dusts produced by casting sand, fettlings and kiln linings, which contain silica and, when dry, produce silica dust known as respirable crystalline silica (RCS). Inhaling RCS can lead to silicosis, a lung disease that causes scarring in the lungs that makes it difficult to breathe. Lung cancer, chronic obstructive pulmonary disease, and kidney disease may also result should exposure exceed certain limits.
The Occupational Safety and Health Administration (OSHA) estimates that 34,591 foundry workers are currently exposed to respirable crystalline silica, 12,173 of them over the new permissible exposure limit (PEL). The OSHA Fact Sheet, OSHA's Crystalline Silica Rule: General Industry and Maritime, states that the standard for general industry and maritime requires employers to:
Measure the amount of silica that workers are exposed to if it may be at or above an action level of 25 μg/m3 (micrograms of silica per cubic meter of air), averaged over an 8-hour day;
Protect workers from respirable crystalline silica exposures above the permissible exposure limit of 50 μg/m3, averaged over an 8-hour day;
Limit workers' access to areas where they could be exposed above the PEL;
Use dust controls to protect workers from silica exposures above the PEL;
Provide respirators to workers when dust controls cannot limit exposures to the PEL;
Restrict housekeeping practices that expose workers to silica where feasible alternatives are available;
Establish and implement a written exposure control plan that identifies tasks that involve exposure and methods used to protect workers;
Offer medical exams — including chest X-rays and lung function tests — every three years for workers exposed at or above the action level for 30 or more days per year;
Train workers on work operations that result in silica exposure and ways to limit exposure; and
Keep records of workers' silica exposure and medical exams
The general and maritime industry segments have until June 23, 2018 to comply with the new standard.
Silica can be monitored by collecting a total dust sample and sending it to a laboratory for analysis, typically using X-ray diffraction (XRD) techniques. Both personal and area dust monitoring equipment can be used to help limit exposure. Learn more about the process for collecting an air sample to measure airborne silica.
To learn more about global air quality regulations and solutions for successfully complying with those regulations, visit the Air Quality Analysis Information page in the Thermo Fisher Scientific Environmental Learning Center.