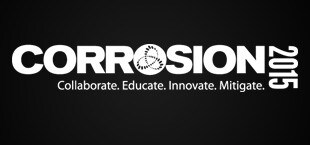 Serving nearly 33,000+  members from 117 countries NACE International, the Worldwide Corrosion Authority, is headed to Dallas, Texas March 15-19 for Corrosion 2015 bringing together an anticipated 450 exhibitors and 7,000 participants from all over the world at the world's largest corrosion conference and expo.  The educational event will focus on the prevention and mitigation of corrosion worldwide and according to the show website it will provide "more than 1,000 hours of educational access across 14 unique industries and technology tracks …the CORROSION conference is the key to finding your specific corrosion answers."
One key public awareness session to consider attending would be the safety forum presented by the Pipeline and Hazardous Materials Safety Administration (PHMSA) on Tuesday.  Between 2007 and 2009 a number of pipe mills produced substandard steel pipe for U.S. pipeline companies.  This pipe failed to comply with American Petroleum Institute (API) Grade 5L standard.  In response to the discovery, PHMSA issued an Advisory Bulletin detailing the low levels and absence of essential micro-alloying elements such as manganese, vanadium, niobium, molybdenum and titanium and recommended the industry to respond.  Handheld x-ray fluorescence (XRF) is the ideal tool where faster analysis and low detection limits are necessary to identify key micro-alloying elements and with the globalization of steel pipe supply chains, will ensure measures for quality control exist in the discovery of defective piping.
Procurement and placement of incorrect or out-of-specification materials can lead to degredation of costly assets, premature equipment failure and sometimes loss of life.  Material verification and Positive Material Identification (PMI) for alloy quality assurance is critical to ensure process integrity and personnel safety through objective quality evidence.  Why material verification?  SAFETY!
To verify that all critical materials conform to customer requirements, independent of           certifications or markings from the manufacturer.
To ensure dangerously inappropriate materials are not incorporated into the completed process system, either by accident or well-meant but misinformed actions.
To provide documentary evidence to authorities that reasonable quality procedures have been employed where failure could have serious consequences.
To identify material other than that specified and to allow for an appropriate body to judge its suitability.
Metal Analyzers can quantify the most common elements in alloy chemistry for thousands of material specifications.  Alloy grades can be quickly and accurately identified including stainless steels, low alloy steels, nickel-based alloys, copper alloys, tool steels, aluminum, titanium and other exotic alloys such as zirconium and tantalum.
My colleagues and I will at Booth 11013 demonstrating how handheld x-ray fluorescence (XRF) analyzers play an important role in identifying mechanisms that lend to Sulfidation Corrosion (API RP 939C), HF Alkylation Corrosion (API RP 751) and Flow Accelerated Corrosion (FAC).  Stop by, join in the discussion and let's talk about your potential application, specific analysis or testing needs.
If you are staying over for an extra day or two, perhaps a round of golf at one of the areas highly-ranked courses such as Twin Lakes Golf Course or Tour 18 Dallas.  Good chance I'll see you there. And here's some notable dining:  Ocean Prime, Abacus, Stephan Pyles, Hibiscus
We'll see you in Dallas!
Show Details:
March 15-19, 2015
Booth 11013 (Floor Map)
Kay Bailey Hutchison Convention Center
650 S Griffin St, Dallas, TX 75202