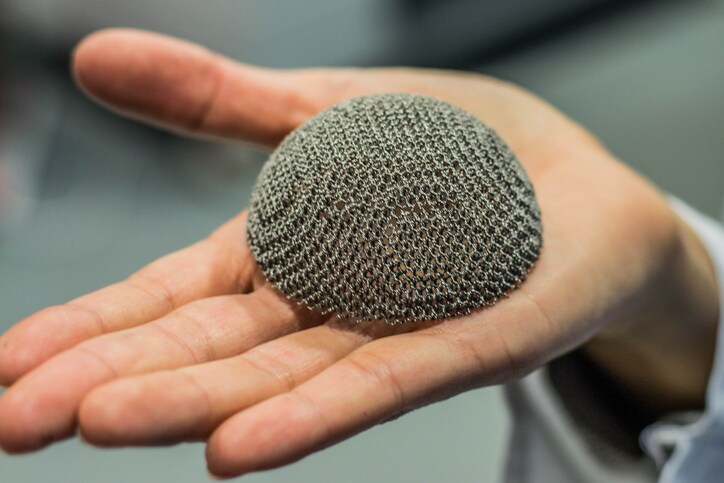 When you think of metal, powder may not be the first thing you imagine. But most common metals, including iron, steel, tin, nickel, copper, aluminum, and titanium, as well as refractory metals such as tungsten, molybdenum, and tantalum, are available in powder form. Alloys such as bronze, brass, stainless steel, and nickel cobalt superalloys are also available in powder form. Many metal powders are tailored to specific 3D printing technologies, while traditionally manufactured metal powders may be used to make surface coatings, paint additives, automotive components, and assorted tools. Both types of powders, however, are not without issues.
3D metal powders were once cost-prohibitive but these materials are evolving to make 3D printing with metal more efficient. Traditionally made powders typically are inhomogeneous and don't flow easily, so manufacturing with these materials is more costly and time consuming. Now scientists at Ames Laboratory may have found a way to produce metal powders to work in both traditional and 3D manufacturing.
Ames Laboratory's gas atomization method produces smooth, spherical, perfectly formed metal powder. According to the Ames web site, "…the individual round particles have little internal porosity, and pack together optimally in bulk. Both qualities reduce dead air space and improve the quality of parts produced using these powders. Using gas atomization, Ames Laboratory has produced powders of iron, aluminum, nickel, copper, tin, magnesium and various other metals and alloys, in addition to titanium, one of its key research accomplishments."
Titanium is especially important because, as one of the Ames researchers explains, "The titanium industry is extremely interested in powder metallurgy and final-shape consolidation methods…Titanium is expensive and the large amount of waste titanium produced during machining cast parts into final shapes significantly increases their costs. They see advances in powder metallurgy as an effective cost control strategy by making parts into near-final shapes and minimizing waste titanium."
The powders produced by gas atomization method have also been used in the production of stronger alnico (aluminum, nickel, cobalt, and iron) permanent magnets, and experimental power transmission cable fabricated out of an aluminum and calcium composite. Visit the Ames Laboratory web site for an explanation of the gas atomization powder production method.
After production, powders can be characterized according to various standard techniques. Just as with traditional metal manufacturing, these metal powders can undergo chemical composition analysis to determine the amount of metallic or non-metallic impurities (elemental form, or in dissolved form as solid solution or as compounds). Wavelength-dispersive x-ray fluorescence (WDXRF) is an elemental analysis technology that easily and positively characterizes any metal powder.
Recommended reading: