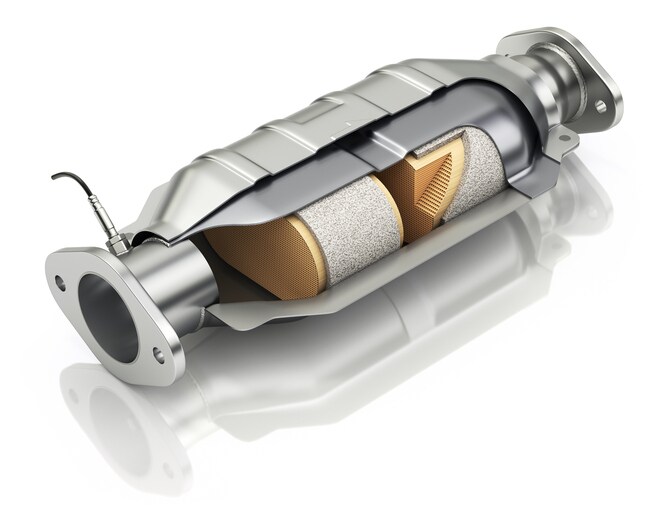 Catalytic converters are pollution control devices coated with chemicals and a combination of the platinum group metals (PGM) platinum (Pt), rhodium (Rh) and/or palladium (Pd). The PGMs are responsible for the conversion reactions that turn pollutants into harmless gases. Most present-day vehicles that run on gasoline, including more than 98% of new cars sold worldwide each year, as well as trucks, buses, trains, motorcycles, and planes have exhaust systems with a catalytic converter.
Given the high level of demand and the scarcity of supply, efforts to recover PGMs from spent catalytic converters and other industrial products have been underway for several years. Recycling efforts must be combined with careful elemental analysis of the recovered metal to determine its exact chemical composition and to ensure the metal is free from contaminants or hazardous materials. X-ray fluorescence (XRF), a non-destructive analytical technique used to determine qualitative and quantitative analysis of materials, is a widely-used technology for this type of analysis.
An alternative to recycling expensive PGMs from catalytic converters is to use less of the metals. Researchers from Washington State University and Tufts University have made progress on this front by demonstrating that a single metal atom can act as a catalyst in converting carbon monoxide into carbon dioxide, the chemical reaction performed by catalytic converters to remove harmful gases from car exhaust.
According to a press release on the Washington State University web site, car companies have struggled to meet strict emissions standards because as engines have become more efficient, their combustion temperature has become lower, making it harder for catalytic converters to work and creating even more harmful emissions. While studying low-temperature catalysts, the researchers tested the ability of single metal atoms to act as catalysts at lower temperatures and demonstrated that the reaction can work with single platinum atoms on a copper oxide support near room temperature. The single platinum atom holds the carbon monoxide in place while the copper oxide supplies the oxygen to convert it into carbon dioxide. Other cheaper metals such as copper will be studied next. The research was published in the journal Nature Catalysis.
Our recent blog post, High-performance Fuel Cells May be Possible by Using Less Platinum, reported on another effort to reduce platinum consumption. As reported on ScienceDaily.com, Johns Hopkins researchers developed a technique to apply a one nanometer thick coating of platinum to a core of much cheaper cobalt, potentially creating a crucial catalyst in new fuel cells that use far less platinum.
The article explains that earlier attempts to plate precious metals on non-precious materials failed due to oxidation of the non-precious metal. Johns Hopkins team successfully suppressed such reactions by introducing carbon monoxide, a gas molecule that strongly binds to cobalt, protecting it from oxidation. Not only did the cobalt-platinum nanoparticles use less platinum; they performed almost 10 times better than platinum alone. The study was published in Nano Letters.
Learn about Portable Metal Manufacturing, Inspection & Recycling Solutions for platinum and other metals, as well as XRF Technology.