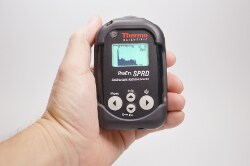 Scrap metal recycling is a vitally important sector of the metals industry. Manufacturing aluminum from scrap yields energy and green-house emissions savings of 95% and facilitates compliance with environmental regulations such as REACH and LEED without any loss of quality.
Steel is another metal that contributes heavily to the scrap recycling market. According to the Steel Recycling Institute, more than 80 million tons of steel are recycled annually. In fact, more steel is recycled annually than paper, plastic, aluminum, and glass combined. Steel scrap is an essential raw material in making new steel, which conserves energy and natural resources and reduces emissions.
But scrap metal is derived from numerous sources, and dealing with such materials can be risky. Questionable scrap which contains unwanted compounds can produce defective materials and unhappy customers, but a more important issue is the potential for radiological sources (so called "orphan sources") to inadvertently enter the scrap metal recycling stream. Should radioactive scrap go undetected at a recycling facility, steel workers could be exposed and the metal could end up in consumer items or medical devices. Furthermore, cleanup efforts from such accidents run into the millions of dollars.
The difficulty in preventing orphan sources from accidentally being processed along with uncontaminated scrap is a huge concern. There are many ways contaminated metal can enter the scrap metal market undetected. Unregulated sources such as naturally occurring radioactive material (NORM) can contaminate pipes and other underground metal equipment. Building demolition sites, a major supplier of the world's scrap metal supply, also can contain unknown or unreported radioactive sources which were once used in a production or research process.
The International Atomic Energy Agency (IAEA) maintains that the prevention, monitoring and remediation programs for radioactive material in scrap metal are inconsistent and often inadequate, and is developing a Metal Recycling Code of Conduct to address this issue. According to the agency's web site, a Code of Conduct of this type will help establish an international consensus on provisions to prevent the transboundary movement of scrap metal containing radioactive material.
As the first point of contact with potentially radioactive metals, scrap recycling yard workers need instruments able to immediately detect, locate and identify radioactive material in their incoming scrap. Now such a solution is available in the form of a pager sized Personal Radiation Detector (PRD) able to to perform immediate nuclide identification, which helps the user to separate threats from nuisance alarms. Worn on a belt holster for hands-free operation, these instruments enable scrap yard workers to perform their primary job responsibilities without interference or worry.
Editors Note: This month, Thermo Fisher Scientific will release the Thermo Scientific™ RadEye™ SPRD Spectroscopic Personal Radiation Detector. The RadEye SPRD detector combines radiation detection and nuclide identification into one detector to give non-expert users the ability to perform initial identification of radioactive materials found in the field. The RadEye SPRD detector is first device of the well introduced family of RadEye instruments that provides nuclide identification capability in a compact size.