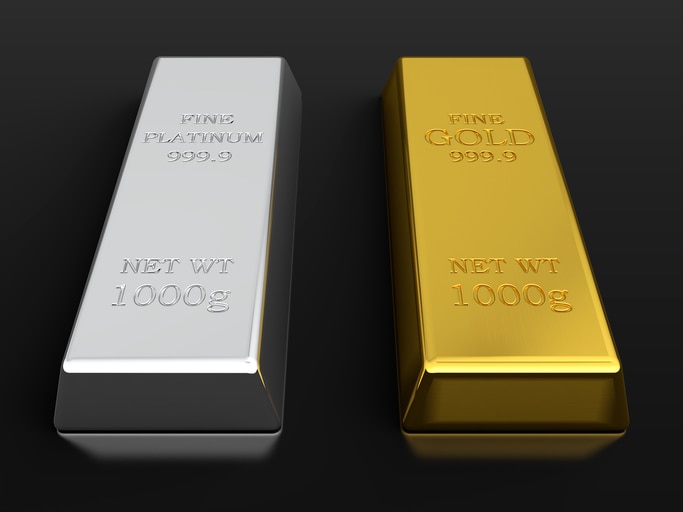 While looking at my blog reports, I discovered that the most-read articles on Analyzing Metals discussed platinum or gold.  Those types of articles received over 50,000 page views.  If that many people are interested in those two metals, I thought you may like to access them from one location.  So here are our top five platinum- and gold-related articles.
Platinum Group Metal Recovery from Spent Catalytic Converters Using XRF
The catalyst component of a catalytic converter is usually platinum (Pt), along with palladium (Pd), and rhodium (Rh). All three of these platinum group metals, or PGMs, are extremely rare but have a broad range of applications in addition to catalytic converters. Platinum, for example, is used in laboratory and dental equipment, electrical contacts and electrodes, and jewelry, while palladium plays a key role in fuel cell technology. With numerous applications and limited supply, these valuable metals are an attractive target for recovery and reuse from spent catalytic converters. In 2010, the total value of Pt, Pd, and Rh reclaimed from the recycling of spent catalytic converters was $3 billion.
Read more about platinum in catalytic converters >>
How Gold Plating is Done, Step by Step
A Santa Barbara jeweler specializing in custom jewelry design and jewelry repair, described gold plating and its best practices. In this article, she describes the step-by-step process.
Read more about gold plating >>
Buyer (and Seller) Beware…. Fake Gold Hitting Pawn Shops and Jewelry Stores
Jewelers and pawn brokers that fail to verify the gold that comes into their shops using at least a couple of methods will fall prey to increasingly sophisticated counterfeiters who know how to get around these tests. Even the seemingly simple task of distinguishing between gold plating and solid gold can be a challenge as counterfeiters become more adept. To be absolutely certain of the composition of gold and other precious metals, many businesses are now turning to X-ray fluorescence (XRF) technology. XRF analyzers provide a fast, accurate, and most importantly, a nondestructive method to test the purity and composition of all precious metals.
Read more about avoiding fake gold >>
Platinum Group Metals Connect: Electronics Applications
More and more platinum is being used in the manufacture of hard disks to keep up with the increasing demand for more storage. Metal recovery starts with a process to separate out the precious metals from the electronics components. Once extracted, the metal must be refined and analyzed to determine the percentage of recovered metal and to be certain it is pure enough for electronic applications.
Read more about platinum in electronics >>
White Gold vs. Platinum: Can You See the Difference?
Gold and platinum are both dense, malleable, ductile precious metals used in jewelry and industrial applications. Throughout history, gold has always been prized as a symbol of wealth, but platinum is, currently, more valuable than gold. Platinum is also used to make jewelry and looks similar to white gold, but when compared side by side with white gold you can see that platinum has a more grayish color. Platinum doesn't fade to yellow like white gold but the finish will dull, so like white gold, platinum jewelry may require some maintenance to keep it shiny.Here are many other important differences between these two elements and the reason to use an XRF analyzer to verify the metal content.
Read about the differences between gold and platinum >>