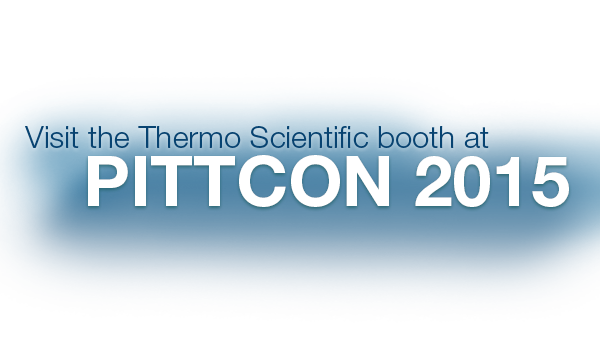 Pittcon is the self-proclaimed "World's Largest Annual Conference and Exposition for Laboratory Science." The Pittsburgh Conference on Analytical Chemistry and Applied Spectroscopy.attracts more than 16,000 attendees from industry, academia and government from over 90 countries worldwide. It will be held March 8 – 12, 2015, at the Ernest N. Morial Convention Center, New Orleans, LA USA. Make sure you stop our booth 2523 to learn how you can collaborate with our technical experts and discover more ways we can help solve your toughest analytical challenges.
Before you step onto the exhibit floor, take a few moments to look over our schedule so you can plan a productive show. There are plenty of opportunities for attendees looking for industrial applications to attend seminars and poster presentations. Here are just a few of the topics that will be covered:
Next Generation Handheld Elemental Analyzers
Achieving a Paperless Laboratory
Shedding New Light on Materials Science with Raman Imaging
Trace Element Speciation Using IC-ICP-MS – Analysis of Lithium-Ion Battery Degradation Products
Optimize Sample Throughput and Laboratory Productivity Using a Low-Cost, Benchtop ICP-OES with Turn-Key Instrument Methods and Superior Sensitivity and Stability
High Speed WDS Spectrometer for SEM Provides Rapid Identification of Overlapped Peaks from Minor and Trace Constituents
Recharge and Refresh your Devices, your Research and You
We also invite you to visit Booth 2523 to recharge your phone/ipads/laptops, while you learn how our solutions can help you recharge and grow your productivity. Our technical experts and self-guided interactive tools will highlight areas important to you and your research. On Monday and Tuesday, you can enjoy complimentary refreshments and applications discussions. You and your devices will both be completely recharged and refreshed!
Hope to see you in New Orleans, but if you can't make it, just register to receive all our materials.