In our last article, we discussed how industrial safety regulations have become increasingly stringent, and the process of inspecting and analyzing individual metal component materials is now a primary concern– particularly to the petroleum and petrochemical refining industry. Today's best practices include testing 100% of critical materials as part of a QA/QC program.
Elemental analysis of piping and equipment with portable X-ray fluorescence (XRF) technology helps ensure quality assurance of selected weld materials at receiving inspection, in-process welding/fabrication and final inspection check points. A handheld XRF analyzer in the field can help rapidly verify alloys in seconds, recover lost material traceability, and isolate finished welds to validate filler material composition and dilution rates, as well as confirm the integrity of process piping, valves, and reaction vessels.  This analysis could help prevent accidents at the facilities.
In today's article, we will show an example of PMI testing of a 347 stainless steel FCAW (Flux Core Arc Welding) spool in the as-delivered condition (top photo) vs. the as-welded condition (bottom photo). FCAW is an automatic or semi-automatic welding process using a tubular wire that is filled with a flux throughout its inner core. The flux — which is a chemical cleaning agent, flowing agent, or purifying agent that removes oxidation from the metals to be joined — provides the necessary protection from atmospheric conditions by producing shielding gases during weld metal deposition.
PMI testing was performed for the same heat lot of 347 stainless FCAW directly on the spool before welding followed by the actual weld deposit itself.  Test results yield the absence of Niobium in the first illustration followed by the presence of Niobium in the second illustration and the corresponding alloy grade identification.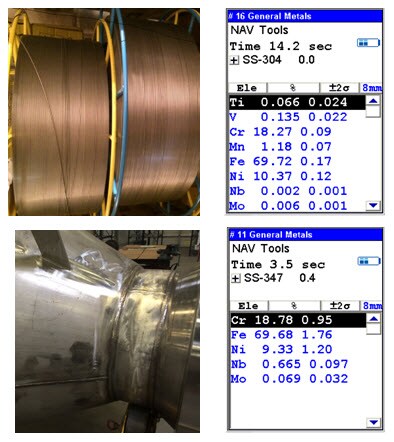 In a competitive industrial climate, manufacturers must be vigilant about maintaining the quality of their products.  Even the smallest deviation from specifications of items like raw materials, fasteners, and welds can affect the quality of the product and the reputation of the company. With a handheld XRF analyzer, QA/QC officers can rest assured that no incorrect or out-of-specification metal alloys caused by material mix-ups, lost traceability, incorrect weld chemistry and dilution, or even counterfeit materials enter the manufacturing process.