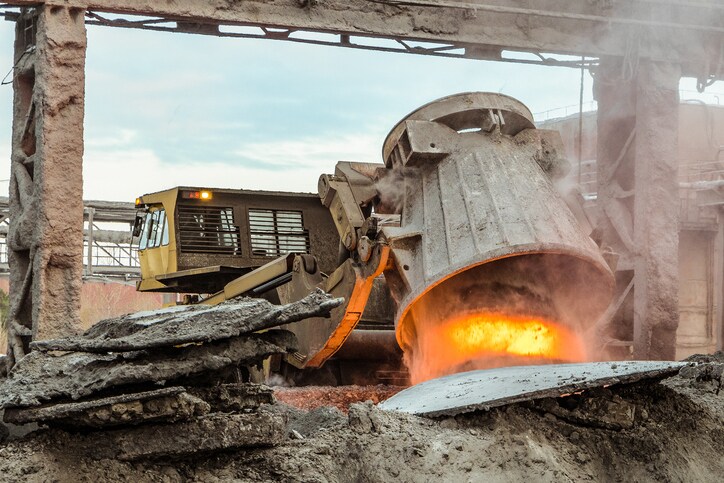 Slag is a critical agent in metallurgical processes. In the production of iron and steel, slag's primary purpose is to purify the iron product through removal of oxides while acting as a protective blanket that stabilizes melt temperatures and helps prevent re-oxidation. Slag chemistry is controlled closely to maximize furnace efficiency, reduce impurities in the product, and prolong the life of the refractory lining of the furnace.
Slag was once considered a significant source of landfill waste and pollution. Today, technologies have emerged to recycle and reuse reprocessed, granulated slag in different building materials. According to the National Slag Association website, blast furnace slag, which is slag resulting from the metallurgical smelting process, is used to make products including:
Granulated Slag, which is used to make a cement commonly known as GGBS (Ground Granulated Blast FurnaceSlag), or Type S slag cement. It is also mixed with Portland cement clinker to make a blended Type 1S cement.
Air-cooled Slag, use primarily as a construction aggregate in ready-mix concrete, precast concrete, hot mix asphalt aggregate, septic drain fields, and pipe backfill.
Pelletized or Expanded Slag, used to produce a lightweight aggregate that can be used for high fire-rated concrete masonry and lightweight fill applications over marginal soils.
Air-cooled Blast Furnace Quote, primarily used in chip and seal applications, also known as "Chip Seal" or "Aggregate Seal Coating," applied to existing pavement surfaces. It is also used in concrete masonry, concrete pavement, and hot mix asphalt.
Air-cooled Blast Furnace Slag rip rap, a permanent cover of rock used to stabilize shorelines and streambanks, and prevent erosion along slopes and embankments. It is also used in gabion baskets, Mineral Wool manufacture (insulation), and lightweight fill.
Slag Cement, commonly found in ready-mix concrete, precast concrete, masonry, soil cement, concrete wallboard, floor leveling compounds and high temperature resistant building products.
The U.S. Geological Survey web site recently reported on another potential use for slag. USGS research suggests the high calcium content of ferrous slag can actually neutralize the acid from acid mine drainage. It may also help absorb excess phosphate from lakes and streams. If slag could be used to treat acid soils or acid mine drainage, it would help offset the cost of restoring abandoned mine areas and decrease steel manufacturers' current waste footprint.
Slag is composed primarily of silica and lime, with concentrations of other minor constituents, including alumina, magnesia, and other compounds. During the fluxing process, slags remove the non-ferrous constituents from the molten iron, which purifies the product. Magnesium is typically found in concentrations ranging from 1% to 10%, aluminum from 0.5% to 25%, and silicon from 5% to 40%.
Compositional analysis of slag by X-ray fluorescence (XRF) spectrometry is an ideal way to monitor composition during production, to make sure it performs as needed and to evaluate its worth following production. Handheld XRF analyzers simplify the process of slag analysis because they can be brought closer to the furnace where users can perform lab quality testing at lower costs, saving time and improving melt shop productivity.
Slag analysis is just one of many ways portable XRF analyzers are used in the metal industry. Material mix-ups and the need for traceability are a concern at every step in the metal fabrication and manufacturing process, XRF analyzers can help ensure your metals are made from the right ingredients in the right percentages. To learn more about applications for handheld XRF in metal analysis, visit the Portable Metal Manufacturing, Inspection & Recycling Solutions page.