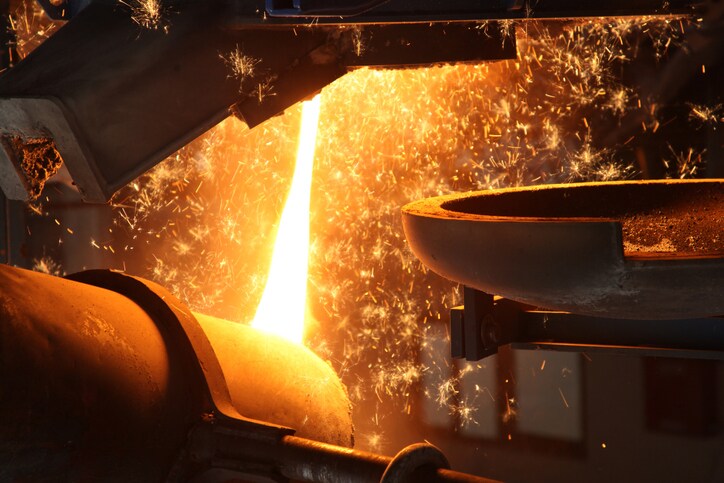 Lead and zinc can be produced pyrometallurgically or hydrometallurgically, depending on the type of ore used as a charge. In the pyrometallurgical process, ore concentrate containing lead, zinc, or both is fed, in some cases after sintering, into a primary smelter. Lead concentrations can be 50-70%, and the sulfur content of sulfidic ores is in the range of 15-20%. Zinc concentration is in the range of 40-60%, with sulfur content in sulfidic ores in the range of 26-34%.
During sintering, a blast of hot air or oxygen is used to oxidize the sulfur present in the feed to sulfur dioxide (SO2). Blast furnaces are used in conventional processes for reduction and refining of lead compounds to produce lead bullion.
This refining process removes any remaining nonlead materials (e.g., gold, silver, bismuth, zinc, and metal oxides such as oxides of antimony, arsenic, tin, and copper). While the gold and silver are considered to be pollutants in the refinement process, these elements can be more profitable than the primary ore elements. It is for this reason that the accurate trace analysis for silver and gold in the ore material is essential. The quickest and best method for this analysis is wavelength dispersive x-ray fluorescence.
X-Ray Fluorescence (XRF) can help achieve rapid material characterization and analysis to ensure product chemistry specifications are met. X-Ray Fluorescence (XRF) technology enables accurate, nondestructive elemental analysis in a wide range of applications including cement, metals, petroleum and mining.
We've conducted a study of precious element analysis in lead and zinc processing using XRF spectrometry in order to be able to state the precision and accuracy of the a particular XRF spectrometer in trace elemental analysis of gold and silver in mineral processing.
We discovered that the very high sensitivity achieved with the XRF spectrometer allows the analysis of silver and gold in lead and zinc ore minerals with excellent precision and accuracy. This ability helps provide a more cost effective and profitable mining operation.
Read the application note for additional details, including instrument used, samples and methods, analytical conditions, chart of performance and limits of detection as well as calibration and repeatability charts.
Read the application note: Precious Element Analysis in Lead and Zinc Processing with Thermo Scientific ARL PERFORM'X Series Advanced X-Ray Fluorescence Spectrometers
Post Author: Marlene Gasdia-Cochrane.