Most construction projects that include fabricating piping spools, pressure vessels, heat exchangers and other pressure retaining equipment require multiple passes of filler metal to join two base materials together.  This procedure is to ensure the material joining process proposed for construction is capable of producing joints having the required mechanical properties for the intended application and produce a sound weld.
A typical pressure retaining weld joint may consist of three components:  root pass, intermediate pass and final pass or "cap."  In many cases it is common that inspection hold points are established during the welding process to verify the integrity of in-process fabrication between welding passes.  Some examples may include visual and dye penetrant inspection and verification that maximum interpass temperatures are not exceeded before starting the next weld pass.
These inspection protocols must meet the acceptance criteria of applicable welding and fabrication standards such as those outlined in the ASME Boiler & Pressure code.
What Happens if Inappropriate Filler Metal is Applied?
For this example we've chosen to weld together two pieces of 316 stainless steel pipe in size 4" schedule 80 starting with a complete root pass of improper 308 filler material followed by the appropriate 316 intermediate and final passes.  The scenario will demonstrate that if inappropriate filler metal were applied on the initial pass it may go undetected by performing PMI analysis of only the final weld cap due to the effects of weld dilution.  308 and 316 weld wire have very similar nickel and chromium contents, however 316 requires 2-3% molybdenum where 308 is typically less than 0.75%.  The data displayed in the illustrations show the molybdenum content increasing as the intermediate and final passes of 316 are added to cover and dilute the 308 root weld chemistry.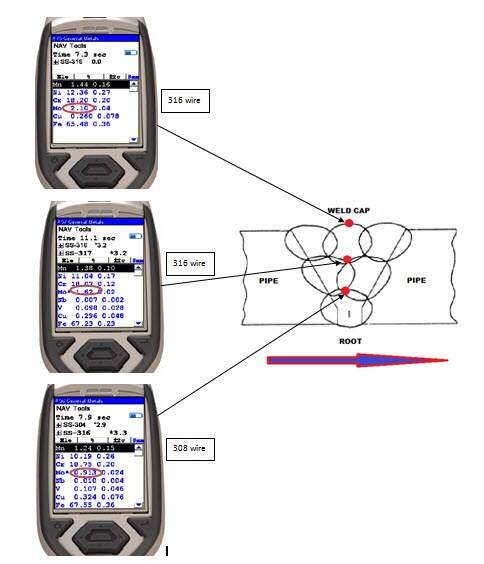 If we consider the integrity of midstream infrastructure with piping systems transporting crude oils and natural gases across thousands of miles and the toxic and corrosive liquids and gases flowing at high temperatures and pressures throughout refining and petrochemical facilities, it's the first pass of a pressure retaining weld that is subjected to direct fluid contact.  Improperly applied weld material could increase corrosion risk, reduce mechanical integrity and promote cracking or catastrophic failure.
This application note shows how PMI testing using a handheld XRF analyzer during in process welding can verify the correct materials are in place for the intended application.