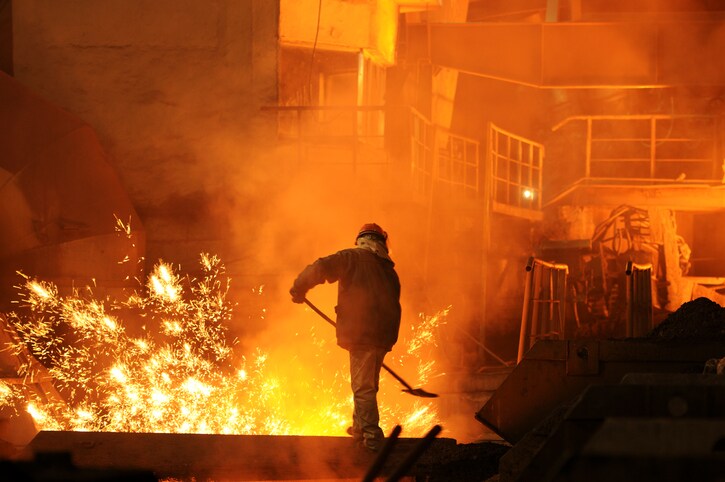 Process mass spectrometers are widely used in many important gas analysis applications in iron and steel plants, including blast furnace, basic oxygen steelmaking, coke oven gas analysis, secondary steel process control, fuel gas analysis and direct reduction iron making processes. Process mass spectrometry can help improve product quality and efficiency with fast, accurate, comprehensive gas composition analysis, enabling efficient monitoring of primary and secondary conversion methods.
We previously wrote how Mass Spectrometry Optimizes Specialty Steel Production Processes.  Secondary steelmaking for making high-quality specialty steels requires a range of different processes, including stirring with inert gases such as argon, adding alloys, vacuum degassing processes such as Vacuum Oxygen Decarburization (VOD) and Ruhrstahl Heraeus (RH), and powder injection. Blowing oxygen into molten steel under vacuum conditions saves time and money over conventional steelmaking methods. It also produces high-chrome steels with very low levels of residual carbon, hydrogen and nitrogen, yielding a wide range of stainless, heat- and corrosion- resistant steels.
Mass spectrometry (MS) operates at high vacuum so it is ideal for monitoring vacuum processes. It provides fast analysis in seconds rather than minutes, ensuring the plant control model is frequently updated with accurate compositional data that can clearly be seen. The MS monitors all components in the exhaust gas – N2, O2, CO, CO2, H2, Ar, even Helium tracer gas – to give a complete gas profile of the melt.
A process mass spectrometer that utilizes a combination of fast, accurate MS gas analysis for gas efficiency, heat and mass balances and hydrogen analysis, with advanced process control and mathematical modeling, provides fast, accurate, comprehensive gas analysis, enabling integrated steel mills and mini-mills to efficiently monitor primary and secondary conversion methods.  It also can reduce coke consumption by up to 100 kg per ton and increase iron production.
Editor's Note: If you want to get a better understanding of how different technologies are used for secondary steelmaking and gas monitoring – or anywhere throughout the steelmaking process – visit our Improving Steel Manufacturing Processes and Production Methods web pages. You'll find free infographics, videos, application notes, technology primers, white papers, and ebooks about the steelmaking process.
Additional Resources: